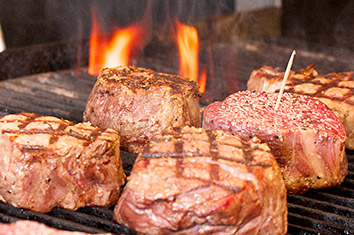 The owners of Cleveland-based Hyde Park Prime Steakhouse visited Indianapolis several times in the early 1990s to try to find a location for a restaurant. They got as far as picking out a site, but Planet Hollywood beat them to it.
"We never really lost interest in Indianapolis," co-owner Joe Saccone said. "We just never got back there."
But in late April, Hyde Park announced that it finally found the right Indianapolis spot, in the Illinois Building at Illinois and Market streets, and will open next spring. Three weeks later, another Cleveland company, Red, the Steakhouse, said it would be moving into 14 W. Maryland St., also in the first half of next year.
That will bring the number of high-end steakhouses downtown to at least a dozen—with more expected.

Huse
"Steakhouses in Indy are like Starbucks: One or two more at any given time or location seem to be welcome," said Craig Huse, president of St. Elmo Steak House and Harry & Izzy's, who predicted a few more steakhouses will open here within two years. "There is always room for well-respected restaurant operators who provide their guests with a quality dining experience—be it steakhouse or other genre."
Indianapolis—especially downtown—appears to have a never-ending appetite for steaks. Four of the top six best-reviewed restaurants at opentable.com are steakhouses, and a fifth, Ocean Prime, while better known for seafood, also boasts that it serves prime steaks. The website sharecare.com lists Indianapolis as the eighth-most-carnivorous city in the country.
Observers say support for steakhouses comes from visitor traffic—particularly conventioneers who come to town with money to spend—as well as the city's growing downtown population.

Ketzenberger
"Steak is easy to understand," said Jolene Ketzenberger, who covers the Indianapolis restaurant scene at EatDrinkIndy.com and on Eat Drink Indiana Radio on WFYI-FM 90.1. Customers know what to expect.
Another reason steak works so well here, Ketzenberger said, is that few other Indianapolis restaurants really say "special occasion." "If people are celebrating—or entertaining clients and dining on the company's dime—and they want a meal with the kind of service that makes them feel special or is going to impress, it's no surprise they opt for a steakhouse."
Or, as local food writer Sara Croft, who blogs at SolidGoldEats.com, put it: "Who wants to celebrate [a major event] with a big bowl of kale? Not me, and I am betting you don't, either. Should we celebrate life's achievements with food? Probably not, but until we make that decision as a collective, steakhouses will continue to thrive."
And they certainly do. Late last year, Restaurant Business Magazine reported that St. Elmo, the great-granddaddy of Indianapolis steakhouses, grossed $16 million, which ranked it 25th among the 100 top-performing U.S. independent restaurants. Huse confirmed the figure.
Competitors clearly would like a piece of that business.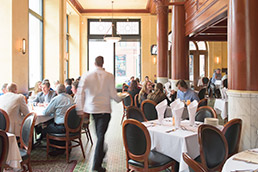 Both visitors and locals keep about a dozen upscale steakhouses downtown hopping, including Prime 47. (IBJ photo/Eric Learned)
"There's still a fair amount of investment capital for a concept that looks like a reasonably sure thing," said John Byrne, owner/managing broker of Radar Commercial Real Estate. "Plus, the hospitality sector has come back, and the white-tablecloth sector is stronger than it was five years ago."
Jonathan Gross, chief operating and financial officer with Red, the Steakhouse, said he and business partner Brad Friedlander saw a number of similarities between Indianapolis and Cleveland diners.
"We really like the market and feel there's a lot of sophisticated dining there," he said. "There's certainly a lot of convention traffic, business traffic, that drives that. And we like the unique properties of the building, rather than just a dry chain-restaurant-type building."
Constructed in 1876, the Italianate structure that will house Red is one of the oldest buildings downtown. It was known as Elliott's Block and was home to Indiana News Co. after serving as a warehouse annex for L.S. Ayres Co. The building underwent extensive renovation in 1999 and most recently was home to 14 West Restaurant and Suites, which closed in 2012.
Hyde Park also opted for a historic building. The Illinois Building, built in 1926, is one of several structures on or near Monument Circle designed by Rubush and Hunter, one of the city's top architectural firms in the early 20th century. It has been vacant more than a decade, but is now undergoing conversion into a Canopy by Hilton, a new brand from Virginia-based Hilton Worldwide.
Can the new entries to the market carve out a niche in a crowded field? Both said they can.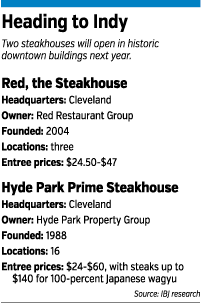 Saccone described Hyde Park as a "chef-driven" purveyor of specialty steaks. "We buy the best meat possible." Its restaurants serve both wet-age and dry-age meats. They bring in Japanese and Australian wagyu beef; they offer grass-fed beef from time to time as a special. "We have a boutique thought process." In October, they'll serve fresh king crab legs.
Gross said Red views itself "as a completely different experience than just the typical steakhouse experience. Everything is made in-house. We use only certified Angus beef. We offer tremendous value because we're giving our guests a higher-quality product at relatively the same price."
St. Elmo's Huse said both Red and Hyde Park are "terrific operators" that will offer "a unique connection point with Indianapolis residents."
"Steakhouse guests connect with certain brands for different reasons," Huse said. "Each steakhouse has their loyal group of regular diners and there are also guests that mix it up by frequenting multiple brands—be it for variety or for geographic convenience to a pre- or post-dinner event. Plenty of support exists for the current steakhouses, so I'm not surprised to see more brands planning openings in Indy and other cities."
Steve Delaney, a partner and restaurant specialist with Sitehawk Retail Real Estate, said success breeds competition, "and that's what you're seeing here."
"Indianapolis is a really strong market for steak consumption," he said. "What is the tipping point? The market will dictate that. With two new steakhouses coming in almost simultaneously, that could be the point where we have one too many."•
Please enable JavaScript to view this content.