The aggressive growth of an upstart law office is adding to the exodus at one of the city's larger and more established firms.

Chicago-based SmithAmundsen LLC on July 6 brought aboard four partners from Krieg DeVault LLP, already suffering from the loss of 10 intellectual property attorneys the previous month to rival Taft Stettinius Hollister LLP.

The wave of departures comes at a time of transition for Krieg, whose local lawyer count has fallen roughly from 100 to 75 in the past two years.

Legal sources say the midsize firm has stumbled financially, amid increasing competition from regional and national players with more resources, prompting a change at the top.

Daniels
Managing Partner Deborah J. Daniels in January replaced longtime leader Michael Williams after a 24-year run and since has seen some of the firm's most-talented lawyers leave.

"SmithAmundsen is a Chicago firm that is trying to establish a foothold in Indianapolis and has been very aggressive in contacting our lawyers," she said, "so a few have decided to go over there."

They are Debra Mastrian (employment), Melinda Shapiro (health care), Larry Tomlin (financial institutions) and Mark Wenzel (creditors' rights and bankruptcy).

Other high-profile departures from Krieg include David Jose, a partner in the firm's health care and business practice group, who joined Plews Shadley Racher & Braun LLP on July 1 as co-chairman of its health care and life sciences group.

And Chuck Coleman, chairman of Krieg's business practice, left in April to become associate general counsel at publicly traded KAR Auction Services Inc. in Carmel.

SmithAmundsen's recent hires from Krieg boost its roster of local attorneys to 11. While that firm, which launched its Indianapolis presence two years ago, is still a small player here, co-founder Glen Amundsen expects the office to add up to 10 more attorneys in the next three months, at the expense of rivals.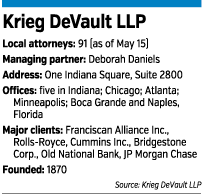 "We have several discussions in process," he said. "There are a lot of great lawyers thinking about joining us."

Founded in 1997, SmithAmundsen established a toehold in Indianapolis by picking off remnants of Stewart & Irwin PC, which closed in 2013.

Stewart & Irwin lawyers Constance Lindman, Dennis Schnell and Eric Lamb, the firm's entire intellectual property team, in addition to Alyssa Rogers and Suzanne Newcomb, formed the SmithAmundsen nucleus.

Now the firm is attempting to branch out from its intellectual property roots by adding more veteran attorneys like those from Krieg.

"It's a great acquisition of some very talented lawyers and it's helping to bring to fruition our plan to have a full-service law firm to serve a wide swath of client needs," Amundsen said.

Overall, SmithAmundsen has more than 150 lawyers, counting outposts in Milwaukee and St. Louis.

Firms seeking to expand into other markets increasingly are searching out merger partners or veteran lawyers, rather than building from the ground up with inexperienced youngsters, said Ward Bower, a legal consultant at suburban-Philadelphia-based Altman Weil.

"When it comes to establishing a credible presence in new markets," he said, it "gives you an immediate position on the ground."

Altman Weil statistics help illustrate the trend. Forty-eight law firm mergers were announced through the first six months of 2015—the highest mid-year number in the nine years Altman has been compiling the data.

Expanding is becoming critical to serve clients with multiple locations, said Kim Ebert, managing partner of Ogletree Deakins Nash Smoak & Stewart PC. It arrived in Indianapolis in 2000 and has 47 offices nationwide.

"The clients are expecting deeper benches and more efficiency in delivery of services," he said. "They're consolidating the number of firms they're using."

Meanwhile, Krieg is attempting to retrench and, in particular, rebuild its intellectual property practice that lost half its lawyers to Taft. Krieg has lured Richard Stanley from Chicago IP powerhouse Brinks Gilson & Lione and is seeking a few more lawyers to round out the practice, Daniels said.

The firm also wants to bolster its health care and business practices. The business group seemed to suffer a big loss when Coleman departed for KAR. But Daniels argued Krieg can benefit.

Coleman handled KAR's legal work before the company recruited him, so having him at KAR only strengthens the connection between Krieg and the auto auction company, Daniels reasoned.

"It's a great opportunity for him and for us," Daniels said, "so we're delighted."

Despite the recent losses, Krieg still boasts more than 100 lawyers firm-wide, counting its Chicago office, which recently snagged work from the Chicago Transit Authority and Cook County Hospital, Daniels said.

But whether Krieg again will surpass the 100-lawyer mark locally—as it did as recently as 2012, when it trailed only Barnes & Thornburg LLP, Faegre Baker Daniels LLP and Ice Miller LLP—remains to be seen.

"We'll want to get bigger," Daniels said. "The question is, how much bigger?"•