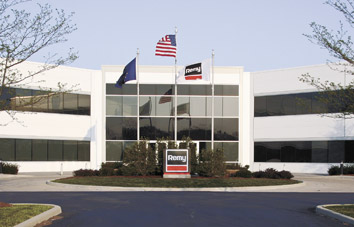 BorgWarner Inc. plans to acquire Pendleton-based Remy International Inc. for about $950 million, driving further consolidation of the auto-parts industry, the companies announced Monday morning.
Auburn Hills, Michigan-based BorgWarner agreed to pay $29.50 a share, or a 44-percent premium from Friday's closing price, to buy the maker of turbochargers and transmission parts.
Remy is the 12th largest public company in the Indianapolis area and the 25th largest in Indiana in terms of annual revenue. The company had sales of $1.2 billion in 2014.
Remy had 6,600 employees companywide as of Dec. 31, including about 500 in the Indianapolis area.
Shares in Remy shot up 42 percent Monday morning, to $29.18 per share. BorgWarner stock rose 1 percent, to $54.19. This year through Friday, Remy shares had fallen 1.9 percent and BorgWarner had declined 2.4 percent.
BorgWarner said the deal has an enterprise value of about $1.2 billion, a formula that includes market capitalization, debt and other considerations to determine a company's total value.
The transaction, set to close in the fourth quarter, should add to earnings in the first year because of purchasing efficiencies and other savings, BorgWarner officials said.
Demand for fuel-saving technology and global scale is pushing auto-parts makers to consolidate. In May, TRW Automotive Holdings Corp. was acquired by German auto supplier ZF Friedrichshafen AG for $12.4 billion.
Remy's "products and capabilities will strengthen BorgWarner's position in the rapidly developing powertrain electrification trend," BorgWarner CEO James Verrier said in a written statement. "The acquisition will be another step in executing our plan, to profitably grow revenue to $15 billion by 2020."
 "Our main focus has been organic growth, and that remains a prime path for us," Verrier said on a conference call. "But we've also been consistent about the need for M&A to add key technology to sustain that growth."
The acquisition highlights the increasing importance of the electrification of the powertrain, which has not been a strength of BorgWarner's, Verrier said.
Turbochargers, a key product for BorgWarner, compress air to maximize the power an engine produces. Automakers, forced by governments in the U.S., Europe and Asia to improve fuel efficiency and reduce emissions, are turning to smaller, lighter engines. They're using turbos to give buyers the power and acceleration they still want.
Buying Remy will add alternators, starters and hybrid motors, giving BorgWarner the ability to benefit as more powertrains blend electric power with traditional gasoline- fueled technology.
Some investors had been concerned that the move to hybrid engines would eventually cause BorgWarner to lose sales to automakers, Joseph Spak, an analyst with RBC Capital Markets, wrote in a research note Monday.
BorgWarner Chief Financial Officer Ron Hundzinski said he expects savings from the acquisition of at least $15 million annually within two years, in part by eliminating duplicate costs associated with a public company, and from lower purchasing expenses. He said he expects the Remy business to have profit margins in the mid-teens, similar to BorgWarner's.
Remy International, formerly known as Delco Remy, traces its roots to brothers Frank and Perry Remy, who developed magnetos, generators that used magnets to help start early automobiles. GM acquired Delco Remy in 1918 and spun it off in 1995. The name was changed to Remy International in 2004 and the company spent less than two months in bankruptcy in 2007.
UBS AG acted as financial adviser to Remy International while Sullivan & Cromwell LLP provided legal advice. Bank of American Corp. acted as financial adviser to BorgWarner and Sidley Austin LLP provided legal advice.
Please enable JavaScript to view this content.