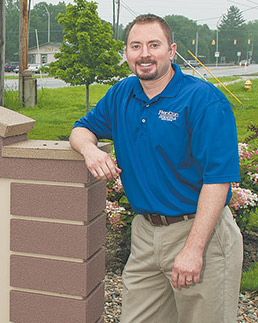 3-year growth: 127 percent
2014 revenue: $14.3 million
Keeping busy:
A lot of hard work, a little bit of luck and a better economy: Those are the reasons behind the success of RenCon, said co-owner Jeremy Bergunder. The commercial construction and renovation company (RenCon is short for renovation and construction) works primarily for retail and restaurant clients, including Starbucks, GNC, Rent-A-Center and Family Dollar. RenCon also has a small division that does facility repair and maintenance, mostly within Indiana.
More remodeling work:
Bergunder said the company he owns with Shane Skinner has been fortunate that a lot of its clients, even if they're not building new construction, are constantly renovating. "They're remodeling, and we're doing refreshes of their stores," he said.
Evening out:
For a couple of years, Bergunder said, RenCon remodeled Rent-A-Center stores all over the country. As that business trailed off, Starbucks—for which RenCon had mostly done remodeling work—hired Bergunder's company to build new stores. "It seems like when one part of our business is slow, the other parts pick up and make up for it," he said.
Inside Indiana and out:
In Indiana, recent jobs have included Wings Etc. in Greenfield—RenCon took an existing space and restructured it—a Dollar Tree in Brownsburg, and Taco Bell in Fort Wayne. RenCon has done a lot of work on the East Coast in recent years, and a satellite office outside Dallas tends to handle projects for Dollar Tree stores.
Coming up:
RenCon continues to work with both Dollar Tree and Wings Etc. In the works are a new Dollar Tree in the Cincinnati area and Wings Etc. in Marietta, Ohio. "There's no real magic to it," Bergunder said. "We've developed a really good network of clients who are consistent, and we haven't lost any. You have to provide exceptional service at a good, fair price and take care of the client as well as you can. Then the work continues." •
Check out more of IBJ's ranking of Indy's fastest-growing companies.
Please enable JavaScript to view this content.