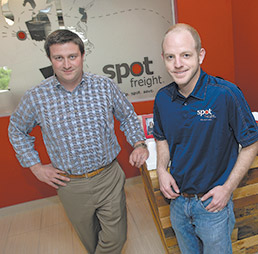 3-year growth: 118 percent
2014 revenue: $39 million
A different business model:
Like Uber, which owns no cars, and Airbnb, which owns no hotels, Spot Freight owns no trucks. It's a third-party logistics company, which ships freight in 48 states, Canada and Mexico by working with trucking companies that keep freight moving for Spot Freight's clients. "Most of the trucking companies—over 90 percent—have 20 trucks or less," co-owner Andrew Elsener said. "Our focus on that marketplace allows us to keep year-long capacity."
Many ways to grow:
Expansion into new markets, continued growth with loyal customers, added staff who boosted sales, and new technology—those are the ways Spot Freight has grown.
Rough winter?
Not for everyone: Winter and early spring were tough because of the weather. "A lot of transportation providers were running away from their customers," said co-owner Andrew Schenck. "We were meeting with our customers proactively to develop solutions to keep their freight moving. And if we commit to something, we're going to get it done, no matter what. If it means us losing $50,000 to get it done, that's what has to be done. You have to make the customer happy."
What's next, part 1:
Spot Freight's expansion will be notable in Schenk's Pennsylvania Street offices. The company now has the seventh floor of its building, and it's planning to take over the sixth floor. They're talking about putting in a slide to connect the floors. Steps, too.
What's next, part 2:
Spot Freight executives said they're in the latter stages of developing software to differentiate their company. They call the three-year, $1.5 million project "a game-changer" that will enable their company to develop closer ties to customers, who can concentrate on their core strength—whatever their product is—and leave the transportation to Spot Freight. "So the tighter that relationship or partnership can be with that customer, the better it is for all of us," Schenck said. •
Check out more of IBJ's ranking of Indy's fastest-growing companies.
Please enable JavaScript to view this content.