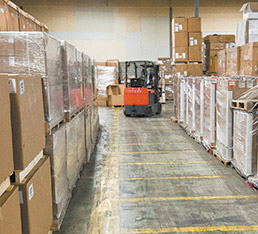 3-year growth: 99 percent
2014 revenue: $62.3 million
The old-fashioned way:
Vice President of Sales Corey Groepper said Fitzmark has grown its logistics business by gaining new customers and taking care of the old ones. Among the new clients is Budweiser, one of a number of its partners in the food and beverage industry.
Creating relationships:
Fitzmark ships in all 48 contiguous states. It operates a small fleet of trucks out of Grand Rapids, Michigan, but for the most part connects companies that have items to ship and the transportation companies that ship them. Groepper said trucking companies differentiate themselves—and keep clients happy—by meeting or exceeding key performance indicators such as on-time pickup, on-time delivery, amount of claims and acceptance percentage.
Weathering the weather:
The last two years have been extremely tough on the trucking industry, Groepper said. "The weather the Midwest suffered the last couple of years really killed transportation companies' efficiencies. There were days the Midwest was basically shut down. It was a tough time to get through."
Finding people:
If the weather hasn't been enough of a challenge, Fitzmark and the rest of the logistics industry also are dealing with a serious lack of drivers, Groepper said. Pay and time at home for drivers are two big issues. "Until we can start incentivizing candidates to become drivers, we're going to be battling this for many years to come," he said. "We're seeing record pricing in the industry right now because of the lack of drivers out there."
Continuing to grow:
Despite the obstacles, Groepper said Fitzmark is "still chugging away at a 60 percent growth rate" year over year, and things aren't slowing down. "People are still needing trucks and their freight moved, so if anything, things have picked up where they left off last year. It's basically business as usual." •
Check out more of IBJ's ranking of Indy's fastest-growing companies.
Please enable JavaScript to view this content.