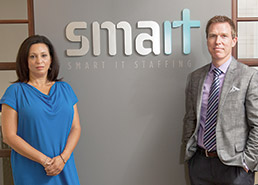 3-year growth: 94 percent
2014 revenue: $41.3 million
A 50/50 split:
Chief Operating Officer and co-founder Paul Rothwell estimates that half of SmartIT's growth comes from being able to provide more services for its existing clients. He attributes the other half to a good marketplace and acquiring new clients. "People have a lot of technology problems they're trying to find solutions for, and a lot more business issues are supported by technology," he said. "We're doing a good job, and they're giving us more opportunity."
Changes that helped:
In February 2014, SmartIT added a third office—in Columbus, Ohio—to its base in Indianapolis and Cincinnati. The company, which has seen a lot of its success working with health care and life sciences companies, also has made the shift from being a staffing-centric company to being an IT-service-centric company that does staffing among other solutions. Being able to offer additional services aided growth.
Celebrating 10 years:
As SmartIT marks its anniversary, it contends with several challenges. By growing as much as it has, adding satellite offices and layers of management, the company wants to make sure it retains its organizational culture. "We need to mature as an organization," Rothwell said, "to put a more defined framework in place to make sure that that culture stays in place as we grow." Finding good people—"There's probably not a harder space to find good people than in the technology space"—and focusing on the areas the company does best also are areas SmartIT will try to solidify as it begins its second decade.
Looking ahead:
To meet its challenges, SmartIT is undergoing a strategic planning exercise with an outside agency, "and that's given us a lot of clarity," Rothwell said. "I feel optimistic about our future growth and being a great organization."
All's well this year:
First-quarter revenue is up 25 percent over the year before, Rothwell said. •
Check out more of IBJ's ranking of Indy's fastest-growing companies.
Please enable JavaScript to view this content.