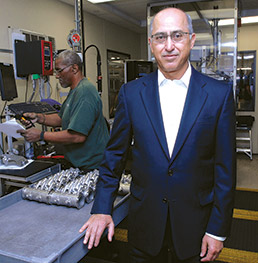 3-year growth: 93 percent
2014 revenue: $105.9 million
Basic formula:
CEO Yousuf Mahomed said his supply chain company tries to keep things simple: Grow with existing customers and increase the customer base. MSW, which provides logistics support to customers primarily in the automotive sector, counts clients such as Cummins Inc. among its existing base and added Harley-Davidson USA in the past 12 months.
New work:
MSW is doing sourcing and packaging work for Harley-Davidson. Mahomed said he hopes that's just the beginning. "We anticipate further growth as we develop our relationship," he said. "Of course, our most important strategy is to meet their need in whatever they require."
Other jobs:
Mahomed said a typical job might mean working for a company that needs to put a turbocharger on an engine. "Our customer will come to us and say, 'Can you source the parts—we'll give you the specifications, we'll recommend what you need to do—and put this component together?' We'll assemble the parts and ship it to the customer to meet their specifications."
Getting started:
Mahomed and MSW President Jim Brown started 20 years ago with one client—Ohio-based Dana Holding Corp.—and about $300,000 to $400,000 of primarily warehouse business. Dana is still a client, which Brown said indicates the kind of care his company takes of its customers. "Find a customer and grow with that customer," he said. "That's what we've done and that's what we've had success with. As we go forward, we don't go out and look for 100 new customers in the next 12 months; we go out to look for one to two with similar values that we have and we try to grow with that customer."
Up next:
Mahomed said MSW expects to continue to add to its customer base—"perhaps in the same sector but perhaps outside of that, and within the bounds of our core competencies. We expect the next 12 months will bring us continued growth in the manner we've seen in the past 12 months." •
Check out more of IBJ's ranking of Indy's fastest-growing companies.
Please enable JavaScript to view this content.