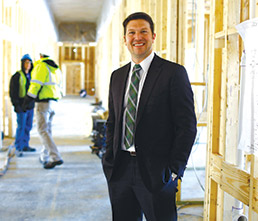 3-year growth: 89 percent
2014 revenue: $118.9 million
New model:
When you have a health care business for which "there's a tremendous need and virtually no product"—which Mainstreet founder and CEO Zeke Turner said is what his company has—growth potential would seem unlimited. "Changing the health care system to a consumer model has been the biggest piece of our growth pattern," he said. "It's worked really well."
What it does:
Mainstreet works in the short-stay, rehab and recovery business, creating facilities where patients go following a hospital stay for no more than 28 days to rehabilitate before going home. The company designs, develops and owns the real estate portion of the properties, which includes the brand new Wellbrooke of Carmel facility at 12315 Pennsylvania St.
The fight:
Mainstreet has run into some resistance from the long-term-care industry, which this year succeeded in getting the General Assembly to establish a moratorium on new development licensed under the "skilled nursing" category, which is what Mainstreet facilities are designated. That, for now, will prevent Turner's company from building in Indiana beyond projects that have already been approved. Turner said the laws need to change. "A lot of legacy laws around the nation are based on an antiquated health care system," he said. "Those laws don't have a category for us today. They will in the future."
By the numbers:
Turner said Mainstreet is one of the top 10 real estate development companies in the nation across all real estate categories, with $1.2 billion to $1.4 billion of new development a year—a pace that will continue. The company has created almost 4,000 jobs over the last five years, which Turner said ranks it in the top three job creators in Indiana during that time.
Continued growth:
Mainstreet is developing in 12 states and will be in 20 within two years, Turner said. Right now, 30 facilities have been built and 68 are under development, including 40 that will begin this year. Each facility means 360 temporary construction jobs and 150 permanent health care jobs, he said. •
Check out more of IBJ's ranking of Indy's fastest-growing companies.
Please enable JavaScript to view this content.