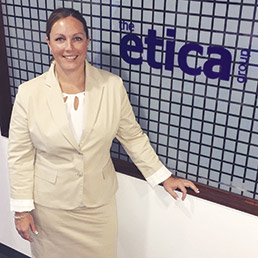 3-year growth: 71 percent
2014 revenue: $1.8 million
New services, new business:
The Etica Group, which started 10 years ago as an architecture and engineering firm, has morphed into a company with four core areas: architecture design (renovation and rehab for higher education and industrial/pharmaceutical work); engineering design (sanitary sewer and storm water projects); a building envelope division (maintaining exteriors); and construction observation.
Going against the grain:
In 2007, despite the beginnings of the economic downturn, Etica ("ethics" in Italian) added the construction/observation side of the business. In 2009, in the teeth of the Great Recession, it added an office in New Haven, outside Fort Wayne, and hired one person. "We saw an opportunity—kind of a leap of faith—that said, 'If we add this, I can see the revenue projection growing,'" said Jessica Nickloy, majority owner of this certified woman-owned business. "And it did." That office now has three employees, and she's thinking about adding a fourth.
Dealing with perceptions:
Nickloy said she's been asked how such a small company can handle such large projects. "But Citizens Energy and Eli Lilly and the airport and Purdue and IU—they obviously trust us," Nickloy said. "Even being a small company, we have clients that are large clients. When you look at it, we have the right amount of staff to handle our projects."
Often unseen:
One of Etica's current jobs is as lead inspector for the Eagle Creek Trail phase one, handling inspection and observation. The business also worked on the sustainable garden at the Eli Lilly and Co. corporate campus.
Measured growth:
Until last year, Nickloy had been handling almost all aspects of the business. Last year, she hired a business development director and an operations manager. "I need to be out working on client relationships and knowing what's going on with our projects more and attending project meetings," she said. "But I don't have to do the daily run to the bank and paying the electric bill. That was a huge change for us."•
Check out more of IBJ's ranking of Indy's fastest-growing companies.
Please enable JavaScript to view this content.