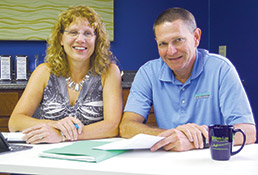 3-year growth: 72 percent 
2014 revenue: $2.7 million
Changing the business:
Like many companies, Bottom-Line Performance experienced a big downturn in 2008-2009. The company was 100-percent service-based, creating training programs for customers to support product launches or customer education. President Sharon Boller said she realized that "survival and growth would have to come by diversifying—offering a product that could drive service customers to us."
What that led to:
In 2012, after launching a game-based learning product called Knowledge Guru, "you can see a corresponding rocketing of our growth numbers," she said. The game supplements Bottom-Line's training programs. For example, a training program might have a pre-work activity where the users participate in a Knowledge Guru game as part of their preparation.
Launching the product:
After coming up with the idea, Bottom-Line developed the game in-house. Two years ago, Sharon shifted to the role of chief product officer and president. Her husband, Kirk, is CEO and oversees the service side. Initially, Bottom-Line had to do the game development on the customer's behalf, which drove game-building business its way. In 2013, Bottom-Line unveiled a back end that enabled people to develop their own games.
Going it alone:
The Bollers self-funded Knowledge Guru's development. "I still stand by the decision and think it was the right one, but it definitely makes it harder and makes you manage your growth that much more carefully," Sharon said. "Once you seek investor dollars, you're beholden to the investor. We have managed and led a very successful company for 20 years now by managing our growth very carefully."
Future generations:
Boller said she and her husband, both in their 50s, are beginning succession planning. They're focused on developing leadership capabilities from within. "We have a lot of great young talent here," she said, "and our hope is that we can transfer leadership of the company to them."•
Check out more of IBJ's ranking of Indy's fastest-growing companies.
Please enable JavaScript to view this content.