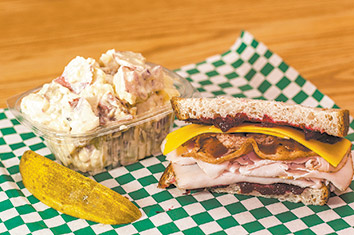 A neighborhood—a true people-live-here-and-shop-here neighborhood—needs a good deli. And I'm happy to report that just such a place can be found on Irvington's main drag thanks to a roomy, creative, decidedly local place called, simply enough, Your Local Deli (5543 E. Washington St., 653-1812).
The name might not fall trippingly from the tongue. In fact, it can border on an Abbott and Costello routine. ("Hey, Bud. Where do you want to go for lunch?" "I don't know, Lou. How about Your Local Deli?" "Which local deli?" "Your Local Deli." "I don't HAVE a local deli.") But in a world of generic delis, I applaud the way the name grounds it in place.
Housed in a long-gone A&P store (nicely incorporated into the decor), Your Local Deli is a combo meat/cheese shop, gourmet grocery store with an emphasis on local goods, and eatery. For those here for a sit-down, the colorful behind-the-counter chalkboard menu guides you into a lineup heavily focused on sandwiches. Each will set you back $9.50 and includes a side. Substituting a soup—on our visit, a chili with finely ground meat—adds $1.99 to your tab. It's a bit more than the chains, but worth it if you care about fresher ingredients.
The Cranberry Turkey, for instance, is a delicious layering of turkey, bacon and cheddar, with just enough cranberry relish binding it to cranberry wheat bread. The Sloppy Mary isn't really all that sloppy, but the creamy coleslaw and Thousand Island dressing add some slipperiness to the turkey and roast beef on rye. The provocatively named Sultry Chicken puts chipotle chicken in the company of Monterey jack cheese, bacon, mayo, lettuce and tomato on a hoagie roll. Across the board, I appreciated the effort taken to find the right bread for each combination. Daily specials keep things lively.
There are salads, too, including a relatively basic House, a Chicken Caesar, and a Summer Salad with chicken, strawberries, candied walnuts, bleu cheese, and a raspberry vinaigrette. No matter which you pick, it's $8.75.
A trip to the dessert case should be factored into your lunch budget. Here, the creations—homemade coffee cake one day, chocolate pound cake with chocolate ganache the next, or mini apple flower tarts—tend to run in the $2 to $3 range.
I left hoping Your Local Deli might one day expand to become my local deli.•
Please enable JavaScript to view this content.