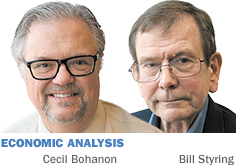 Economics is the study of how people go about making a living. It's a useful inquiry. As a famous philosopher put it: "A man can be neither a saint, nor a poet, nor a lover unless he has comparatively recently had something to eat."
But even the most ardent student of homo economus admits few people act from solely economic motives. Sociologists, psychologists, brain chemists and even philosophers have something to say about why we do what we do. Anger, pride, ambition and fear are all part of human nature.
In recent days, we've seen this tug of war between economic interest and other human passions play out in the dance between Greece and its eurozone creditors. Greece has been running a welfare state sustained by its euro partners. Early retirements, a bloated public sector and a tax system that makes tax evasion a national sport all conspired to make Greece an international deadbeat.
Any Greek with a lick of common sense knows the status quo can't be continued. But common sense is often trumped by human passion. Some combination of anger, pride and envy convinced 60 percent of the Greek electorate that their national dignity was affronted when asked to pay their bills.
But after the vote, all Greek Prime Minister Alexis Tsipras took to the negotiating table was an implicit threat: Give us a better deal or else the whole eurozone unravels. He figured the ambition and pride of Europe's leaders were at stake: A "Grexit" would end the dream of a "united Europe." So were Europe's fears: Isn't Vladimir Putin making soothing gestures toward Greece? From a strictly economic viewpoint, Tsipras also calculated that some form of relief of Greek debt was in the interests of the creditors.
"Maybe so!" seems to have been the response of the rest of Europe. "However, our decisions can be based on passion, too! In our anger, Mr. Tsipras, we will let you drive us all over a cliff. Here is a package that is harder on you than the one you and your electorate rejected. Take it or leave the euro." And Tsipras blinked. His fear of Greek economic meltdown was greater than Angela Merkel's fear of a Greek exit.
We suspect that the final agreement and its ultimate implementation, neither clear at the time of this writing, just kicks the can down the road. Stay tuned for future episodes of the Greco-Euro soap opera.•
__________
Bohanon is a professor of economics at Ball State University. Styring is an economist and independent researcher. Both also blog at INforefront.com. Send comments to ibjedit@ibj.com.
Please enable JavaScript to view this content.