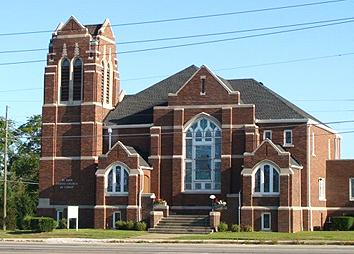 Giant Eagle Inc. has dropped its controversial plan to demolish a historic church in Cumberland to build gas station and convenience store on the site.
Pittsburgh-based Giant Eagle Inc. said in a written statement Tuesday afternoon that, after much consideration, the company won't pursue the development project at the corner of East Washington Street and German Church Road.
The plan would have put a Get Go Cafe + Market on the site where St. John United Church of Christ has stood for more than a century.
"We remain committed to bringing the fresh made-to-order foods and convenience-oriented services associated with GetGo to Indianapolis and the greater surrounding area," Giant Eagle spokesman Dan Donavan said in a written statement. "However, after a thorough review of the Cumberland opportunity, for a variety of reasons, we did not feel that this proposed location best met the needs of our business."
The decision to drop the project comes after the company received approval in May from the city's Metropolitan Development Commission to rezone the property.
Last month, the City-County Council declined to rehear the rezoning issue, paving the way for the church's demolition.
Church officials had agreed to sell the property to Giant Eagle early this year. Cumberland officials, though, opposed Giant Eagle's plans and mounted an effort to save the church by issuing a request for information to developers who might have interest in buying the property.
Cumberland Town Manager Andrew Klinger said the town envisions a greater potential use for the site than a gas station and convenience store.
"Moving forward, we want to work with St. John's Church leaders to sell the property and ensure an appropriate adaptive reuse that's mutually beneficial for the congregation and the Cumberland community," he said in a written statement.
For about a century, the land in question has been the site of the Tudor Gothic Revival-style church, which once was known as Deutsche Evangelische St. Johannes Kirche. It opened in 1855, initially serving German immigrants who farmed the surrounding area. That structure was replaced later that century, and the current building opened in 1914.
 
Please enable JavaScript to view this content.