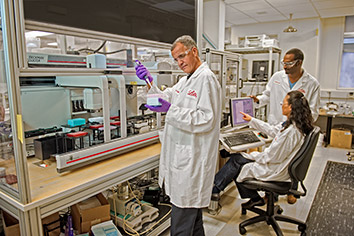 New data released Wednesday morning suggest that Eli Lilly and Co.'s Alzheimer's drug has a modest but lasting impact that slows down the memory-sapping disease.
Some Wall Street analysts worry the impact of the drug, called solanezumab, may not be enough to be meaningful for patients. There is currently no drug on the market that does anything more than provide temporary relief of Alzheimer's symptoms. One that did so could fetch $5 to $10 billion per year in sales, according to analysts' estimates.
But Lilly scientists said Wednesday's results are good news that further prove its method of fighting Alzheimer's—by targeting clumps of a protein called amyloid in the brain—is working.
"We're happy with these data," said Dr. Eric Siemers, senior medical director of the Alzheimer's disease global development team at Indianapolis-based Lilly. He added, "It's a really hopeful time in the field."
The data, to be presented Wednesday at the Alzheimer's Association International Conference, compare patients in one group that were given Lilly's drug 18 months earlier than a second group of patients. The second group had been randomly assigned to take placebo during the first 18 months of the trial but after that point began to receive solanezumab.
Both groups, each with about 650 patients with mild Alzheimer's disease, saw declines in their mental abilities and their abilities to do so-called "instrumental activities of daily living,"  based on standard evaluation scales used for Alzheimer's treatment.
But after 18 months, those taking solanezumab saw their mental scores about 1.8 points better than those taking placebo, on a 90-point scale, and saw their daily activity scores about 1.2 points higher, on a 56-point scale.
Said another way, the patients taking solanezumab saw their mental function decline 34 percent less than patients taking placebo, and saw their daily activity abilities decline 17 percent less than those on placebo.
Those differences held up even after the second group of patients starting taking solanezumab. After 28 weeks of both groups taking the drug, the patients that had started earlier still had scores that were 1.8 points higher on mental function and 1.3 points higher on daily activities.
After a full year of both groups taking the drugs, the early-starters had a 1.9 point advantage on mental function and a 1.7 point advantage in daily activities.
The persistent advantage of the early-start patients shows that solanezumab actually slowed down the disease, rather than just masking its symptoms, Siemers said.
"If you wait six hours to take an aspirin for your temperature, it really doesn't matter. Your temperature is still going to go away," Siemers said. "But the people that were on placebo, while they were on placebo were losing brain cells at a faster rate than those who were on the treatment. And you can't get those cells back."
But will it be enough? Alex Arfaei, an analyst at BMO Capital markets, wrote that a difference of 2 to 3 points would not be meaningful to patients and their doctors. He still hopes to see a 3 to 4 point advantage from patients taking solanezumab in another clinical trial Lilly is running and which will not conclude until October 2016.
"Our research indicates this is not clinically meaningful, but it will again be viewed as an encouraging signal of efficacy," Arfaei wrote in a July 16 note to investors.
He predicts solanezumab will get approval from regulators—since it has few side effects and there are no other treatments available—and reach $7.6 billion in sales by 2024.
But Siemers said the results are meaningful to patients. Preserving their ability to do daily activities is, by itself, meaningful to patients, he said. Also, he noted, the original clinical trials results showed that the benefit from solanezumab (compared with placebo) increased steadily over 18 months, suggesting its benefit could go higher if patients took the drug for a longer period of time.
"It's a different scenario because the treatment difference grows over time," he said.
Please enable JavaScript to view this content.