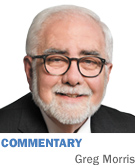 As Troy Riggs winds down his duties as Indianapolis public safety director in the next week or so, I can't help but think his legacy of leadership in the city is just getting started.

Riggs' move in August to lead public safety efforts at the Indiana University Public Policy Institute is a good one for him personally; obviously, IU benefits; and ultimately, I believe the city wins.

Don't get me wrong; I hate seeing Riggs leave his position as public safety director. But I understand why he's leaving and I believe the move is ultimately good for the city because we kept him in town with his new endeavor. When you attract new talent to the city the caliber of Troy Riggs, you want to keep them here as long as possible.

When Mayor Greg Ballard named Riggs, a Louisville native, public safety director back in October 2012, I don't think anyone really knew whom we were getting. He was coming from Corpus Christi, Texas, where he was assistant city manager for safety, health and neighborhoods. Riggs' predecessor, Frank Straub, was leaving the job with a reputation for having a bit of a fiery relationship with the media and departments under his command.

I don't remember a lot of positives associated with the position back then, but I do remember it didn't take long for Riggs to establish himself as a totally different type of leader—in a positive way.

A lot has been accomplished since then. Probably the most notable effort has been the data-focused initiative to bring long-term improvement to Indianapolis' most challenged and violent areas. The goal is to reduce crime and improve quality of life in six focus areas.

Because of heavy local media coverage, many people have now heard about the six areas, which are identified by major intersections: 16th Street and Tibbs Avenue, 29th and Dr. Martin Luther King Jr. streets, 34th and Illinois streets, 38th Street and Sherman Drive, New York Street and Sherman, and 42nd Street and Post Road.

These six areas represent eight square miles and 4.7 percent of the city population. But 27.1 percent of all homicides and 29.6 percent of all non-fatal shootings occur there. (It should be noted that most arrests in those areas do not involve residents, but rather people from outside the neighborhoods.)

A lot of good work has been done and progress is being made, but this is a decades-long initiative. Poverty, abandoned homes, substandard education and youth engagement, lack of job opportunities, mental health issues and other problems all contribute to the perpetually declining outlook for these areas. There are no short-term solutions.

Space doesn't allow me to list all the accomplishments of the Department of Public Safety under Riggs' leadership, but the benefits are widespread among the departments under his watch: the police and fire departments, the Department of Homeland Security, Indianapolis EMS, Animal Care & Control, and the Division of Public Safety Communications. In coordination with the Mayor's Office, Riggs has also made progress in the area of police complaints and ex-offender re-entry.

I had the opportunity to spend some time with Riggs recently as he reflected on the past few years. He kept coming back to one theme—he constantly praised the people he has worked with. "I've been lucky to work with a great team" was a common refrain. Then he would give an example of a great individual effort by one of the department heads or staff. Isn't that what great leaders do? They take a back seat and give credit to their team.

I know Riggs cares deeply about the future of the city, and he worries about the recent and potential future exodus of city officials (including his own) as the Ballard administration winds down. But his new job will keep him involved in the generational change that must take place to ensure the future success of our city and those who live and work here.

Thanks, Director Riggs, for your efforts on our behalf. I wish you the best in your new role as director of public safety outreach at the IU Public Policy Institute. Finally, thanks for keeping your family here in Indianapolis.•

__________

Morris is publisher of IBJ. His column appears every other week. To comment on this column, send e-mail to gmorris@ibj.com.