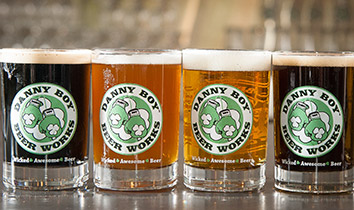 I understand completely if I'm asked to pre-emptively offer a credit card to run a tab in a busy drinking establishment with high noise level and a crowd focused primarily on beverages.
I don't understand being asked to pre-emptively offer a credit card to run a tab when I'm sitting on a bright outdoor patio in a suburban restaurant/drinkery during prime dinner hours with only one of the members in our party ordering a single beer.
Did the folks at Danny Boy Beer Works (12702 Meeting House Road, Carmel, 669-8080) really think our little gang—including an 11-year-old—was going to dine and ditch, leading a merry chase across the Main Street USA vistas of Village of West Clay?
(A follow-up with a manager revealed that, yes, this is the policy for all Danny Boy patrons.) Why, you might wonder, am I focusing on this rather than on the food at Danny Boy Beer Works? Because, across the board, the edible offerings were unexceptional. Not bad, just carrying the aura of afterthought.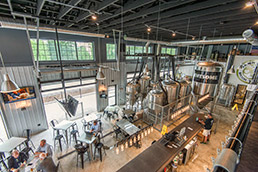 (IBJ photo/Eric Learned)
Those looking for a place to drink, of course, might have lower expectations of the food. Danny Boy brews its own beers right here in the shop's gleaming tanks. And its Training Day, Danny Boy Black, Mac Daddy and Miss Ginger Witte are available not just here but in restaurants and bars around central Indiana. But we were more hungry than thirsty.
On the menu under Soups, there's only one and in only one size: Chicken Tortilla ($5). Pub Nachos ($12)—a heap of multicolored tortilla chips with pico, jalapenos, banana peppers, olives and black beans—were heaped together with Mac Daddy beer cheese.
Half the menu consists of pizzas, a gutsy move considering that Greek's Pizza is across the street and Pizzology is just down the road. All of the pizzas we sampled were a little heavy on the dough, coming across more as bread with toppings than actual pizza. They were, to their credit, a bit larger than a standard personal pizza.
The Spartacus ($10) was quite good, with tasty olives offering the key flavor and oregano coming through as a nice kicker. You are likely to do a quick search to find out what the included Kaffir Leaves are. Our waiter saved us the trouble of Googling, telling us they don't really have much flavor and are there for decoration. The Lock Stock and Barrel ($12) was on par with a pretty good deluxe frozen pizza. All the flavors—bacon, sausage, pepperoni, mushrooms, greenpeppers, onions—ran together, with no notable accents or highlights. The Backyarder ($12) also offered nothing that stands out from your average barbecue chicken pizza.
We didn't ask about dessert. But we did pay our tab.•
Please enable JavaScript to view this content.