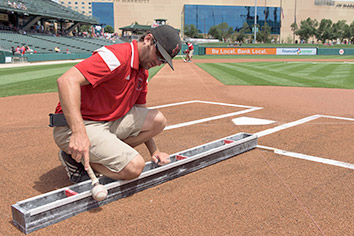 The scoreboard in an empty Victory Field tells us it is 11:06 a.m., and Joey Stevenson is lugging around another 50-pound bag of clay conditioner for the infield. The temperature on the surface is nearing 100 degrees. Might not look like it, but this is what you call love.
The hottest team in town right now, figuratively and literally? That would be Indians head groundskeeper Stevenson and his crew. They bake, they sweat, they occasionally get soaked, thundered at and lightninged on … and they also produce a field that is the envy of their peers. Three times in the past four years, Stevenson has been named best turf manager in all of AAA baseball, and that covers a lot of gardeners.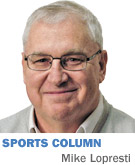 Or as Indians' General Manager Randy Lewandowski said, "We hear it from the umpires, we hear it from visiting managers, we hear it from players who have come back and forth from the big leagues, that this field's on par with anything they've seen in the major leagues, and in some cases even better."
Stevenson is 31, and has a full-time crew of three 20-somethings: Adam Basinger, Andrew Raes and Kevin Weaver. During games, a squadron of part-timers helps.
"I think what it comes down to is, the four of us really care," he said. "We certainly don't do it for the money."
So let's spend a day with the best groundskeeper in the minor leagues. But first, an introduction.
Stevenson grew up in Illinois an hour south of Chicago, on a 3,000-acre farm of corn and beans. He was a pitcher and second baseman in high school but at 18 realized he would never play on the next level, and looked for Plan B.
"My dad told me to go out and get a real job," he said.
So he went to Purdue, earned a degree in turf science, interned with the Royals and Phillies, then found a home at Victory Field in 2007.
"We have a job to do. The players expect true hops and the fans expect a quality field," he said of his universe. "It's taking that mind-set and going out every day and grinding it out."
On July 20, for example.

Stevenson
10 a.m.: Stevenson has been at the ballpark for an hour, taking the usual first glance at the infield skin and the grass, searching for problems. Also, pondering the weather forecast. Should the tarp be handy or not?
Which brings up the black day he once guessed wrong, and did not have the tarp put on the field overnight. A storm popped up, and the crew had to work like mad for hours the next day. "If we had spent a minute and a half putting on the tarp," he says, "we could have avoided all of that."
11 a.m.: Things are busy in the groundskeeper area in the right-field corner. This is the place of rakes and brooms and shovels and bags of this and that, and a fleet of John Deere equipment. Lewandowski had mentioned the Indians take this seriously, and put in the resources to match. No secret ingredients. Just Kentucky bluegrass, mowed to 9/10ths of an inch.
"There's nothing that we have that the Little League down the street can't buy," Stevenson says. "It's just a matter of putting it where it needs to be."
Also, there is the office with the couch and TV, where Stevenson has slept more than a few nights, never straying far from his turf. "I haven't done that since we had our first child, which was last May," he says. "But back in the day … "
Noon: There is talk of rain. Ah, the weather. The relentless and constant foe of the groundskeeper. Stevenson says this summer, with its endless parade of thunderstorms, has "been a beat-down" for his crew, which has had to constantly repair the damage.
"We would prefer drought. I know probably 95 percent of the rest of the people in Indiana don't."
If the rain comes, especially during a game, there is the great race to roll on the tarp. It is something like a submarine crew going to battle stations for a crash dive. More than a dozen men join the effort. The Indians' record, according to Stevenson, is 67 seconds.
"That's pretty quick, especially for the minor leagues," he says. "That's quick for the major leagues, too."
1 p.m.: The field is ready for practice. Stevenson has a few moments to look at the big picture.
His awards?
"I think it means a lot to the whole crew. I think it allows them to believe what I'm trying to tell them: We're not just doing this for fun. The reputation of the Indians and the Indians' field is known throughout the country, especially because of these awards, so we try to keep that up."
His own yard?
"We just bought a house last spring. I'm putting in more landscape to have less lawn." Apparently, he has enough grass to worry about at Victory Field.
What goes through his mind, watching games from other ballparks? "It's a disease pretty much. You watch the All-Star Game, and rewind it and look at this edge or what that mound looks like. It's something you can't get away from. I tell people I haven't enjoyed a baseball game in about 10 years."
And the big one. The weather forecast?
The Indians will be watching the radar. Not like the old pre-radar days Max Schumacher tells him about, when all they could do "was walk to the top of Bush Stadium and look west."
But then, technology gives a groundskeeper no excuses for being surprised.
"That means," Stevenson says, nodding toward the field, "it has to look like this."
6 p.m.: The crew is back at it, getting the field perfect for play. The lines are carefully drawn. Know what happens then? An umpire or player walks onto the field and immediately starts rubbing it out with his foot. All that work.
"We don't mind when the players do it," Stevenson says. "But the umpires get to us a little bit."
Then, there are the umps who park in the grass in front of second base, spitting out sunflower seeds all game.
7 p.m.: The game begins. Stevenson is back in his office and will monitor the weather and also listen to the game broadcast, hoping never to hear the phrase that could ruin his night—bad-hop single.
The crew will reappear on the field after the third and sixth innings for a quick sprucing-up.
9:01 p.m.: A snappy game ends, with the Indians up 5-0.
9:02 p.m.: The John Deere fleet roars onto the field from the right-field corner, as the crew begins its post-game work. The clock is ticking. Rain is coming.
While the stadium speakers blare music to departing fans, Stevenson is driving circles on the infield, smoothing the dirt, glancing at his phone for weather updates. Earlier, he had discussed his hopes.
"I want to at least give myself the best chance to become a Major League groundskeeper one day. If that doesn't pan out, hopefully the Indians keep me here."
But going back to the family farm is a future option, too. "I'm getting older; my knees are starting to hurt, my back is starting to hurt. There are only so many times I can swing the cages out here, or toss those 50-pound bags."
9:58 p.m.: Time for the tarp. A platoon helps, including me—as if an old, lame sportswriter could aid the cause much. It sure feels a lot longer than 67 seconds. Just as we make the last pull, the rains come. "Good timing," Stevenson declares.
"Pretty routine," he describes the night. "I never heard the word 'grounds crew' on Howard Kellman's broadcast, so that was good."
10 p.m.: The downpour thickens. Victory Field sits quiet, dark and drenched, and Joey Stevenson and his crew are going home. They'll be back in less than 11 hours to do it all over again.•
__________
Lopresti is a lifelong resident of Richmond and a graduate of Ball State University. He was a columnist for USA Today and Gannett newspapers for 31 years; he covered 34 Final Fours, 30 Super Bowls, 32 World Series and 16 Olympics. His column appears weekly. He can be reached at mlopresti@ibj.com.
Please enable JavaScript to view this content.