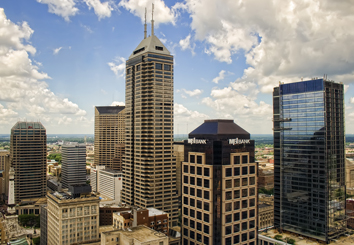 A major corporate headquarters like Anthem Inc. benefits the city in many ways that are difficult to quantify.
But for starters, the state's largest health insurer employs about 5,000 people, pays nearly $5.1 million per year in corporate taxes and contributes $3.5 million annually through its foundation.
All of that could have been lost, along with the top tier of the company's employees in the state, had Anthem agreed to move its headquarters to Connecticut as part of its acquisition of Cigna Corp.
Anthem announced Friday morning that it will pay $188 per share to acquire its rival, valuing the deal at $54.2 billion in cash, stock and the assumption of debt.
Anthem CEO Joe Swedish, who lives in Indianapolis and earned $13.5 million last year counting base salary and stock options, will be chairman and CEO of the combined company, which will be based in Indianapolis.
Anthem, already the state's biggest public company, with $73,9 billion in revenue last year, would rank 18th among Fortune 500 companies with Cigna's contribution.
The deal is a plus for the city to host skilled workers "who serve areas all over the country," said Indy Chamber CEO Michael Huber.
"It looks like the acquisition will allow Anthem to be more competitive," Huber said. "Having the largest health insurer in the world headquartered here in Indianapolis is a plus as well."
The company's commitment to the city also benefits groups such as the Central Indiana Corporate Partnership, a group of 55 executives of Indiana's large corporations and universities.
"Indiana and Indianapolis have been centers of insurance activity for a long time," CICP CEO David Johnson said. "This really cements our role in that."
The combined company will have more than $115 billion in revenue, more than 53 million Americans in its health plans, and more than $5 billion in annual profits. The addition of Cigna's 37,000 employees will boost Anthem's work force to 89,000.
Former Lt. Gov. John Mutz, who spent decades in the local public and private sectors, said the deal seems to bode well for Indianapolis.
He said the state only has a handful of Fortune 500 companies based here, and losing one could have had multiple drawbacks.
"What would happen if [a major corporate headquarters] left? Well, first of all, you'd lose the leadership they provide to the community," he said. "Second, you lose the philanthropic additions that they make to the community. And the third thing you lose are the ancillary service providers that would suffer because the headquarters moved."
Not everyone is bullish on the deal, however.
Brian Payne, president and CEO of the Central Indiana Community Foundation, said he's less enthusiastic about the philanthropic implications of this deal given what occurred after Anthem merged with California-based WellPoint Health Networks Inc. in 2004. (The combined company became WellPoint, but changed its name to Anthem late last year.)
Before that $16.5 billion merger, Payne said, Anthem had a huge presence in corporate philanthropy, employee volunteerism and executive civic involvement. The company is still involved in the community—Robert Hillman, president of Anthem Blue Cross and Blue Shield in Indiana, is chairman of the Indy Chamber—but clearly not as much as it was before the WellPoint merger, Payne said.
"It's hard for me to get excited about them buying Cigna because the precedent doesn't [suggest] that that's a big deal for Indianapolis," he said.
Anthem's foundation in 2014 donated about $2.1 million in grants to Indiana programs that advance maternal health, heart health and diabetes care, among other things, according to its website. Including employee fundraising and corporate matches, total giving topped $3.5 million. Employees also gave nearly contributed 6,200 hours of community service.
Johnson of CICP takes a more positive view of Anthem's previous merger, with WellPoint.
"The Anthem-WellPoint merger was one of the reasons that led to the BioCrossroads formation," said Johnson, who helped launch the group. "BioCrossroads is about life sciences, but health care is a critical component."
Please enable JavaScript to view this content.