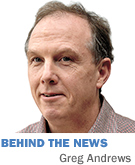 Alan G. Symons, a big wheel in Indianapolis for years who once was president of the Columbia Club, is fighting efforts to collect on a $44 million judgment, according to the Chicago insurance company that's owed the money.
Chicago-based Continental Casualty Co., accuses the 66-year-old of "hide-the-ball" conduct. It's asked Judge Richard Young to impose sanctions for failing to produce myriad documents that would provide a clear picture of Symons' finances and potentially show transfers aimed at putting assets out of reach.
The battle, which is coming to a head this summer, stems from a legal brawl between Continental and the Canadian-born Symons that started way back in 2001—three years after one of his Indianapolis-based insurance companies bought two lines of crop insurance from Continental. The deal included terms under which the two entities would share profits from the combined businesses.
But Symons' insurance empire, which included Symons International Group and Goran Capital Inc., soon began to teeter. That prompted Continental Casualty to exercise its right to receive full payment from the sale of the two insurance lines, but the Symons subsidiary on the hook, IGF Insurance, was unable to deliver.
That's despite the fact that Symons sold IGF's crop insurance lines for $40.5 million in May 2001. While that should have replenished IGF's coffers, $9 million instead went to Symons' remaining businesses to fund unusual non-compete and retention agreements, court records show.
Continental charged the Symons family used those other businesses as a personal piggy bank, collecting millions of dollars in salary and millions more in the form of interest-free loans that were never repaid and thus amounted to tax-free compensation. The suit charged breach of contract and fraudulent conveyance—illegal transfers of assets that hinder creditors.
Young in 2009 ordered the Symonses and their companies to pay $34 million, finding they were "the recipients of improper post-transaction benefits" that left Continental shortchanged. The judge also found the Symonses misrepresented their companies' financial condition to regulatory authorities and comingled assets of the various businesses. After additional twists and turns, Young issued a final judgment in July 2014, adding $10 million in interest to bring the total amount owed to $44.2 million.
Alan Symons, whose LinkedIn page says he splits his time between Indianapolis and Sarasota, Florida, could not be reached for comment.
After the $44.2 million judgment went unpaid, Continental headed back to court late last year in an attempt to collect the debt and learn more about Symons family finances. But court filings allege Alan Symons has been less than helpful, telling the court he has provided documents "that are readily available to him" but that much of what Continental wants is not.
Magistrate Judge Mark Dinsmore turned up the heat on Symons July 15, giving him 21 days to provide "complete and unequivocal responses" to Continental's inquiries. He noted Alan Symons had reported his net worth at $8 million in 1998.
"Something happened to those assets in the intervening years, and [Continental] is now entitled to serve discovery requests targeting those intervening years to determine what did happen," Dinsmore wrote.
In court papers, Continental expressed confidence its quest eventually will yield a payday. Continental "firmly believes that the judgment debtors have assets, income, profits, or other non-exempt property, which can be applied to the … judgment," a filing says.
Innovation at the mall
The word "innovation" gets tossed around a lot these days, but most often in the tech realm and rarely in brick-and-mortar retailing.

Simon
However, in a conference call with analysts last month, David Simon, CEO of mall giant Simon Property Group Inc., said he's seeing a wave of entrepreneurism in his sector—in segments ranging from restaurants to specialty retailers.
"The amount of new concepts and new entrepreneurs coming into our environment—it's really at a high," Simon said.
He added: "The new retailers we are dealing with … are substantially more sophisticated than the crop of new retailers we dealt with, say, 10 years ago—better financed, much more focused on their niche, and it's been much easier to deal with this new crop of entrepreneurs."•
Please enable JavaScript to view this content.