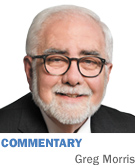 The Democratic-controlled Indianapolis City-County Council has been busy this year. It is high political season, after all, and councilors have been trying to undermine as many of Mayor Ballard's initiatives as possible to help ensure their candidate for mayor, Democrat Joe Hogsett, wins the upcoming November election. Ballard isn't even running, but Democrats seem intent on fighting him up until his last day on the job.
By the way, I don't blame Hogsett for the councilors' tactics. I believe him to be a decent man who has a genuine interest in solving the big-city problems facing Indianapolis. I think the same of Republican candidate Chuck Brewer. But the actions of this batch of Democratic councilors have been a mystery to me.
You'll remember the council torpedoed the Justice Center project at the last minute. Are you a vendor who thought you had a deal on this project after 18 months of work and major expense? Sorry to pull the rug out from under you, but you've got to get your timing to match the council's agenda of electing a Democrat to the Mayor's Office this November. Come back next year.
Then there's the Blue Indy debacle. The mayor had no authority to negotiate that contract? Let's tow those clean-energy cars that are illegally parked on the street! You think you have a contract with the city? Think again. Why on earth would any company or investor want to do business in a city where the council acts out like this? It sends a pretty clear message that you should go elsewhere.
I don't have space to list all the craziness. A homeless bill of rights? Really? Honestly, I've been trying to ignore it all and chalk it up to pure politics. Rational thought and action can be elusive when a major transition of power is at stake.
And now we have a proposed Indianapolis retail worker's bill of rights that has worked its way through committee and is headed to the full council with a do-pass recommendation. Did I wake up from a coma to find out I've moved to San Francisco? How does this silliness (as IBJ Forefront contributing writer Abdul Hakim-Shabazz describes it in a recent blog) make it all the way from the left coast to Indiana?
It might seem harmless, as it's not really a new law. It's merely a symbolic resolution. However, sometimes resolutions like this morph into something more devious down the road. That's why I'm raising the red flag now. A disturbing version of this idea is now actual law in San Francisco. Google it if you're interested in reading about what could be the ghost of Christmas future!
Here is a taste of the Indianapolis resolution. I've skipped the preamble with all the WHEREAS language.
 
ARTICLE I
Every retail worker who wants to work full-time should have access to full-time hours.
ARTICLE II
All retail workers should have stable schedules posted weeks in advance, so scheduled hours do not hamper their ability to juggle life's demands, such as child care, school, a second job or medical needs, and prevent them from climbing the economic ladder.
ARTICLE III
Every retail worker, regardless of the number of hours worked, should have access to health care benefits and sick leave.
ARTICLE IV
No retail worker should be denied the protection afforded to other retail workers because of their gender identity or sexual orientation.
ARTICLE V
Every retail worker, regardless of the employer, is entitled to job and benefit protections in the event of a corporate takeover.
ARTICLE VI
Every retail worker should have access to affordable health care.
ARTICLE VII
No retail worker shall be put in a position that does not guarantee workplace safety and other health protections.
ARTICLE VII
No retail worker shall be coerced, intimidated or silenced because they exercise their right to freedom of association.
ARTICLE VIII
Every retail worker is entitled to join together with coworkers to address any work-related concerns without any interference from the employer.
Some of the articles make sense, but those protections are already afforded by law. Simply stated, most of the others are a wish list of entitlements that cannot exist in a free-market economy.
Here's hoping the council can find some important and relevant initiatives to work on as we close out the year and move forward.•
__________
Morris is publisher of IBJ. His column appears every other week. To comment on this column, send e-mail to gmorris@ibj.com.
Please enable JavaScript to view this content.