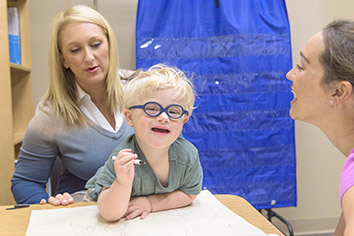 Every Thursday, Sutton Brost visits a speech therapist who uses her hands to teach him how to talk. The therapist holds his lips and physically positions them to pronounce sounds like "b" and "p".
Sutton, who turns 3 this month, has Down syndrome. His routine includes a second speech therapist, a developmental therapist, a physical therapist and two occupational therapists. His medical costs, more than $5,000 annually, cause the Brosts to meet their insurance deductible before summer each year, said Sutton's mother, Laura Brost.
Beyond these expenses, Brost and her husband effectively have to plan for the retirement of three people, unsure if their son ever will be able to earn a living wage.
"We want to leave as little to chance as possible," she said.
Such is life for parents of children with special needs. Many parents have to choose between working to help cover added expenses or unemployment so they can tend to their child full time. Financial planning is vital for these families, parents and special-needs advocates said.

Dodson
"When you have a child with a disability, financially it can be very rough," said Kim Dodson, executive director of The Arc of Indiana, which helps people with intellectual and developmental disabilities realize goals. "Even if you get Medicaid and Social Security [benefits], transportation can be a problem and you have a lot of other factors."
The financial tools available for parents of children with disabilities are improving, Dodson and others say. Late last year, for instance, President Obama signed the Achieving a Better Life Experience Act, which permits the creation of tax-exempt savings accounts for people with special needs, somewhat like 529 college savings plans.
In the past, a person's income and assets effectively lowered their government benefits, but ABLE accounts allow people with disabilities to save up to $100,000 without affecting benefits.
States have to establish regulations before their residents can use ABLE accounts, and Dodson said Arc will lobby the next General Assembly for Indiana regulations.
About 3 percent of Indiana's 6.6 million residents have some kind of disability, The Arc of Indiana says, not including those who are blind or visually impaired or deaf or hard of hearing.

Clark
Progress has been made on other fronts, too, including a budding number of local financial planners focused on special needs. These planners usually have personal experience with special-needs situations, some parents said, so don't have a steep learning curve. Phillip Clark of Indianapolis-based Foresight Financial Management is one example; the 30-year-old said he was drawn to the niche because of his sister, Sarah, who has Down syndrome.
"I started coaching Special Olympics when I was in junior high … ," Clark said. "And I think at that point I realized that, whatever I did professionally, I wanted to have an impact on individuals with special needs."
Gordon Homes, a certified financial planner with MetLife, has worked in the niche about 16 years, motivated by his son, who has Asperger's and Crohn's disease. Homes, who has offices in Indianapolis and Louisville, said only a handful of special-needs financial planners operate locally for now, but awareness is expanding.
For one, "advances in medical science have made it possible for children with special needs to live longer, meaningfully longer than their parents," he said. Also, there's a "sense that the government benefits may be more limited in the future."
In a special-needs child's early years, therapy bills can pile up fast, and some children require major surgeries related to their conditions. The Arc's Dodson said some children have restrictive, costly dietary needs, and some day care facilities won't accept children with disabilities.
Parents are often left to bear the brunt of those and other expenses, Dodson said.
"We've done a lot over the years trying to get private insurance to help pay for things," she said, "but they don't always do that."
Brost and other parents said they also spend a lot of time driving to appointments, helping with children's daily routines, and researching and applying for government benefits. Brost, 36, said that, while parents possibly can grow their incomes, they can't increase their time.
During a 40-minute trip from west Carmel to her home in McCordsville, Brost said, "The amount of time invested in a child with special needs to help them reach their full potential is certainly not regrettable, but it's real. There's very little down time in the Brost household."
Parents of adult children with special needs face a slightly different set of challenges, mostly centered around independence. Some children, like 32-year-old Jessica Green, can work a job, shop for groceries, and even live on their own with some supervision. But when it comes to finding a job, said Jessica's mother, Lana Green, the prospects are mostly dim.
Jessica held a job at a physical-therapy equipment company for eight years before it was outsourced, her mother said. She then worked for a national pet-focused retailer, but employees made the work environment hostile. These days, she's pet-sitting for neighbors and looking for a job.
"Finding an employer that is committed to making it a successful placement is key," Lana Green said.
Besides the life challenges, the financial-planning process itself can be arduous. One of the main tools is called a Special Needs Trust; it allows families to pool finances for the benefit of the person with special needs without jeopardizing government assistance. The trusts require expertise to be crafted correctly, then trustworthy people to be stewards when the parents die.
Still, Brost said, having a financial plan is far better than not having one.
"It's complicated, but it's empowering, and I think it's really helped us focus on what's important," said Brost, who is one of Clark's clients. "I think it helps keep us strong financially and it definitely helps us not to live outside of our means."
Clark said he works with about 20 special-needs clients, and the biggest challenge he sees parents face doesn't deal with the complexities of trusts, life insurance and other financial tools, but rather with finding their "why" for planning.
"I find that, until they understand why planning can be impactful to them, their child with special needs, and the other children, they have a hard time allocating the time and resources," Clark said.
Dodson said she hears parents all too often say they want to live just one day longer than their child with special needs.
But given the increasing life spans of children with disabilities, she said, that wish can be unrealistic. "So we've really got to do more education and awareness," she said, "about the resources for financial planning that do exist."•
Please enable JavaScript to view this content.