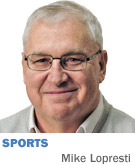 Here come the gymnasts; this is probably the only weekend all year the baddest athletes in Bankers Life Fieldhouse are under 5-foot-6.
The P&G Championships—gymnastics' national championships—are headed to town starting Aug. 13. Now might be a good time to mention the day a certain Indiana Pacers executive you know invited a pack of balance-beam and floor-exercise artisans onto his team bus.
This was the 1992 Olympics. The Dream Team had arrived in Barcelona to off-the-chart hype, and with the bus parked outside the accreditation center, the masses were gathered 'round, vainly trying to get a glance. That included members of the U.S. women's gymnastics squad, who had hustled over from the cafeteria, hoping to see the basketball players.
Tom McGrath, then associate executive director of USA Basketball, was in the front of the bus and suddenly heard a booming voice from behind.
"See those girls over there? Get them on the bus."
Larry Bird.
He alone among the Dream Team contingent had spotted and recognized the American gymnasts, and sent McGrath out to welcome them aboard. Larry Bird, noted gymnastics aficionado.
"They were sitting on the curb kind of dejected because they'd been unable to see the team," McGrath said the other day from Penn State, where he now works in administration. "I went over to them. I'm 5-7, so they didn't want to see me. I just said, 'Excuse me, there's some people on the bus that would really like to meet you if you have a few minutes.'"
So the ladies scampered onto the bus to shake hands and pose for pictures. Bird, who the other day said the Olympicexperience remains "one of the highlights of my life," still clearly remembers the interlude. "They looked so young and so tiny and so fragile. But hell, they were probably tougher than any of us."
So there they were, the world-famous giants from the basketball Dream Team and the teenage pixies from gymnastics, in an Olympic Moment produced by Larry Bird. That might have been just an obscure half hour 23 years ago, but not to the girls who were there.
Kim Zmeskal Burdette will be in Indianapolis coaching several competitors, including young phenom Bailie Key. In 1992, Zmeskal was one of the nation's shiniest Olympic medal hopefuls at the age of 16, having the year before become the first American ever to win the all-around at the world gymnastics championships. Guess where that milestone was? Indianapolis.
She hasn't forgotten Bird's kindness.
"That is one of my most clear and favorite moments of the whole journey," she said over the phone from Texas. "It brings back what the whole thing is. We were just these little people. They almost seemed imaginary, certainly not people we would ever meet, and certainly not know us. They might as well have been movie stars to us. The fact they recognized us was icing on the cake."
Bird did, anyway. Next thing they knew, they were all getting their pictures taken, which is not that easy when some are 4-8 and others are 6-10.
"Thank goodness," Zmeskal said, "they were all sitting."
A bond was formed. A few nights later, when the American women were winning a bronze medal in the team competition, they looked up to find Scottie Pippen and John Stockton in the crowd. McGrath remembers seeing one of the USA women reaching into her bag before her final event and holding up a Dream Team trading card she had been given on the bus.
Zmeskal had a tough Olympics with no individual medal, and it was later discovered she was competing with a stress fracture. She tried to get back to the Olympics two more times, but was stopped both times by injuries. Now she is coaching with husband Chris Burdette, and returning to Indianapolis, which will always be a special place for her because of 1991. Did one weekend in Indy change her life?
"I would say that, without a doubt."
With the 2016 Games now less than a year way, the P&G Championships are a vital stepping stone to Rio for both the men and women. The hottest name in gymnastics—two-time world champion Simone Biles—will be here. So will Olympic champions Gabby Douglas, Aly Raisman and Kyla Ross. And 16-year-old Key is a comer.
Indianapolis means the pace to Rio is quickening, the Olympics now too close not to think about.
"It's about reputation; it's about every single time out proving what you're capable of," Zmeskal said. "Honestly, that's where Bailie is right now. Indianapolis is a big part of that."
It will be in the building where Larry Bird works. What does he know about gymnastics? He knows it's hard. Back in his Indiana State University days, he was friends with fellow Sycamore and Olympic gymnast Kurt Thomas. That led to one unfortunate experience on the rings.
"Every time I would walk by that [gymnastics] room, he was always in there," Bird said. "So one day I thought I could go up on those. What a joke. I figured I'd better get out of there before I had a dislocated shoulder."
Imagine what might have happened had he tried the pommel horse, with its handles there to hit a man in inconvenient places.
"I know where you're going with that one," Bird said.
His verdict on gymnasts?
"You always hear about them doing jumps on sprained ankles. They're as tough as they come. Just because they're small doesn't mean they're not tough."
And he's still glad he asked them on the bus.•
__________
Lopresti is a lifelong resident of Richmond and a graduate of Ball State University. He was a columnist for USA Today and Gannett newspapers for 31 years; he covered 34 Final Fours, 30 Super Bowls, 32 World Series and 16 Olympics. His column appears weekly. He can be reached at mlopresti@ibj.com.
Please enable JavaScript to view this content.