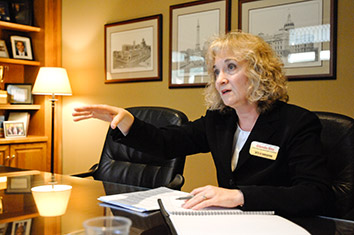 Indiana Superintendent of Public Instruction Glenda Ritz has dropped out of the 2016 governor's race.
Ritz announced Friday afternoon that she will instead seek re-election for her current position.
"The best use of my time and talents will be to serve our children, their families and the taxpayers of Indiana as superintendent of public instruction," Ritz said in a written statement. "I must continue to be 110-percent engaged in supporting public education."
Ritz badly trailed former Indiana House Speaker John Gregg in collecting campaign donations in their race to represent the Democratic Party against incumbent Gov. Mike Pence, a Republican.
As of June 30, Ritz had about $112,000 in total campaign funds, far behind the $1.8 million Gregg had in the bank as he seeks a rematch of his 2012 campaign loss to Pence.
"Glenda Ritz has always put the best interests of our school children first and this decision is another example of that," Gregg said Friday in a written statement. "I look forward to supporting her re-election to the office of superintendent and to working with her as governor to further strengthen public education in our state."
State Sen. Karen Tallian, D-Portage, also a candidate, reported raising about $24,000 this year.
Ritz also had been accused of illegally collecting about $8,000 in contributions during a fundraising blackout period. She blamed a clerical error.
"Now is not the right time for me to run for governor," Ritz said in Friday's statement. "Under my leadership, I have brought the discussion of public education into the public discourse and have started to fundamentally change how we support schools. My work is not finished, and my passion is stronger than ever."
Ritz announced her decision to run for governor only two months ago. A poll released in early June showed Ritz and Gregg in a statistical dead heat against Pence.
In a written statement, Indiana Democratic Party Chairman John Zody said he backed Ritz's decision.
"We understand and respect Glenda Ritz's decision to seek re-election as superintendent of public instruction," he said. "With her leadership at the Statehouse, Hoosier families can have the confidence that she and other Statehouse Democrats will work to solve the problems facing our state."
Ritz, 60, was a little-known suburban Indianapolis school librarian before upsetting Republican schools superintendent Tony Bennett in 2012. Her campaign was largely run on social media and driven by teachers' anger over education changes pushed by Bennett under former Gov. Mitch Daniels.
She is the only Democrat among Indiana's elected state officeholders and has clashed frequently with Republicans over control of education policy — including the state's grading system for schools, the use of private school vouchers and the state takeover of poorly performing schools.
Ritz said in her June announcement speech that she decided to enter the governor's race after a legislative session in which Republicans pushed through measures shifting some authority from her office to the GOP-controlled State Board of Education. Lawmakers backed off a proposal to remove her as the board's chairwoman midway through her term.
Republicans have criticized Ritz's management of the Department of Education and blamed her for troubles with this spring's state standardized exam, which was to have its testing time roughly double to 12 hours before she took steps just days before testing started to shorten the exam by three hours.
Please enable JavaScript to view this content.