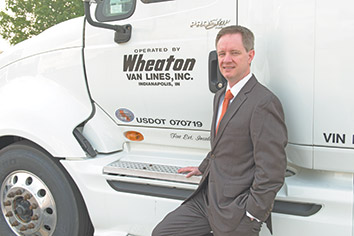 Wheaton Van Lines Inc.
Chief Information Officer
Adaptability is key when you work with more than 350 independent agents and more than 1,000 drivers. That's the case for Jerrod Carter, chief information officer for the fourth-largest household goods carrier group in the country, Wheaton Van Lines.
"I walked into a very mature company," Carter said. Still, there were only six people in IT at the time (it has since grown to 13 full-timers, plus contractors).
One of Wheaton's biggest challenges—and successes—has been a string of acquisitions including Bekins Van Lines, one of the oldest and best-known brands in the business. The deals set off a series of important decisions about which technology systems to ditch, which to adapt, and which to merge with existing IT. Savvy moves helped generate an additional $30 million to $40 million in revenue within 12 months of closing.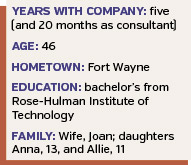 "Our growth has been a healthy combination of increased revenue from acquisition and then organic growth based on agents working with a new, efficient and profitable system," Carter said. Total revenue in 2010 was $143 million. By 2014, annual revenue rose to nearly $210 million.
Carter has been programming since an Apple II was wheeled into Ms. Vodde's seventh grade class at Fort Wayne's Memorial Park Middle School. "I was awestruck," recalled Carter. "Before that, TV was something you watched. It became something you did."
The interest led him to enroll at Rose-Hulman. After graduating, Carter was a project leader at Eli Lilly and Co. He later served as assistant vice president at Conseco, vice president and CIO of Pepperweed Consulting, and vice president of development for Matrix Global Partners.
"IT skills are pretty transferable," he said. "Some IT folks tend to focus too much on the tech, though, and not on the business side. They may be too focused on something that is technologically innovative but not very business-innovative."
"The pace of change has always been frenetic," Carter said. "We've lived under Moore's Law—CPU capacity doubling every 18 months—since even before I was into this space. What's important is that you are able to jettison the old and replace it with the new when appropriate."
Bringing in the new isn't always an easy process.
"Testing is always tricky," Carter said. "When I got here, we really didn't have any software development methodology whatsoever. IT would just say, 'Let's build this.' But you can't approach testing well unless you ask enough questions."
Carter has a picture from "The Bridge on the River Kwai" on his desk. Its lesson? "We sometimes get attached to the thing that helped us in the past but is now dragging us down," Carter said. "One of the biggest problems [in tech] is that we'll get something new but we won't get rid of the old."•
Check out more CTO honorees..
Please enable JavaScript to view this content.