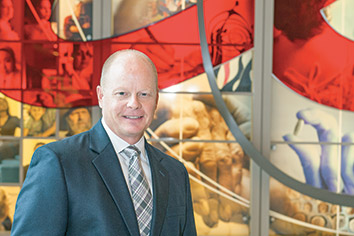 Eli Lilly and Co.
Chief Technology Officer, Vice President
When did Mike Meadows begin working for Eli Lilly and Co? "I usually say, right out of sixth grade," quipped the 32-year Lilly vet, who has risen from systems analyst to chief technology officer. He's guided the company, which has nearly $20 billion in sales, into the digital future with investment in social, mobile, analytics and cloud-based computer technologies.
Meadows also oversees IT for Elanco, the company's animal health business. Recently, he helped with the massive task of taking Lilly's IT organization through a downsizing that reduced expenses about 40 percent—significantly contributing to the company's need to cut a billion dollars in infrastructure costs to help offset lost revenue due to patent expirations—with no significant IT service disruptions.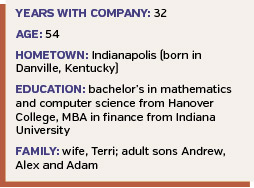 Meadows sent only two resumes in his search for post-college work. He received offers from both employers, but "Lilly's offer was much more attuned to someone who didn't know what he wanted to do, someone who could adapt," he said. "That's what got me here."
He believes success in IT means being willing to evolve. "You become a dinosaur pretty quickly if you can't adapt."
His team's achievements include implementing applications to support human resources, financial and manufacturing across Lilly's global footprint; adapting IT infrastructure to support the mobile sales force; speeding up the launch of products through clinical trial efficiencies; and providing an infrastructure for high-performance computing to support drug discovery efforts.
"You could not do the research we do without the IT behind it," he said, marveling at "the amount of data we have to process to find out if a particular molecule can help in a disease state." IT tools also help researchers search through millions of documents to find relevant information. "It also helps us spend less time on those [drugs] that have no chance."
On the other end, Lilly has worked to minimize the time needed for sales reps to effectively communicate with physicians.
"When the iPad came out," he said, "we were one of the first to put them in the hands of our sales force so that, at a moment's notice, they could flip it open." IT also could see if docs were paying more attention to one part of a presentation than another and make changes based on feedback.
A member of TechPoint's board, Meadows has co-chaired the Indianapolis Evanta CIO Executive Summit and serves as chairman of the technology committee for Providence Cristo Rey, a Catholic high school that educates kids from economically disadvantaged backgrounds.
"We are supportive of anything that benefits the region," he said. "And when I connect with other tech leaders, it's motivation for my own learning."•
Check out more CTO honorees..
Please enable JavaScript to view this content.