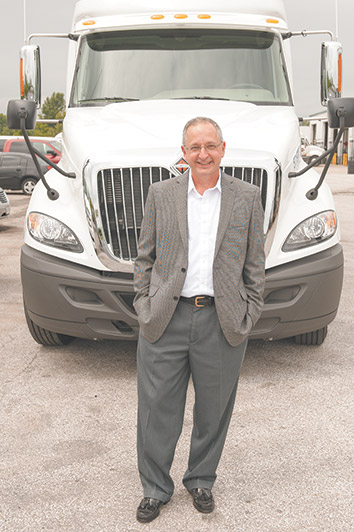 Celadon Group
Vice President, Chief Information Officer
In trucking, the more you can optimize your network, the more profitable you can be.
"If I deliver in Indy and cannot find my next load until Louisville," said Celadon Group Chief Information Officer J. Michael Gabbei, "I'm basically incurring 100-plus deadhead miles to drive—miles that aren't paid for. That's 33 gallons times four bucks in fuel that I am not recouping."
Multiply that by Celadon's 4,500 drivers worldwide and you begin to grasp the day-to-day importance of keeping trucks filled. Finding technology solutions and efficiencies for connecting freight to carriers is a big part of the job for one of the country's top truckload carriers.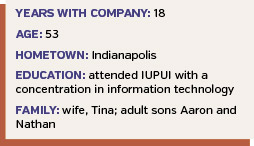 Gabbei, who joined Celadon in 1997 and took the chief tech position in 2005, has encouraged the use of technologies to improve efficiencies, implemented a new accounting software system, and crafted the technology design for business segmentation that allowed Celadon to acquire other companies credited with $150 million in additional revenue over 18 months.
He's launched a mobile application for drivers, developed more streamlined dispatching methods, and helped design the technology infrastructure for Celadon's Quality Drivers schools, which led to dramatic decreases in turnover while reducing the cost of recruitment. In the last 18 months, Celadon has scored five carrier awards, including 2015 Innovator of the Year by the Commercial Carrier Journal.
"My brother was the chief financial officer of N.A.B. Truck Lines and brought me in when I was 16 to do odds and ends," he recalled.
His intention was to study accounting, but after watching a new transportation system put in place and teaching himself programming, he switched his career goal to technology. He attended IUPUI part time while working full time. When that trucking company was purchased, he went to work in distribution, then manufacturing, before receiving a call to interview with Celadon.
After 14 years away from trucking, he was amazed how technology had taken over the industry. "You could now see if a truck was shifting too much, idling too much, or speeding."
But sometimes technology can be embraced too quickly: "We were one of the last to put road transponders in to [pay automatically at] toll booths," he said. When tested, he found that toll costs doubled, which would have doubled the company's $3.5 million in tolls per year. Instead, he worked with software providers to come up with a navigation system that told drivers when toll roads would be the most efficient, with drivers billed for anything outside of those costs. Using that system in conjunction with the transponders shrank toll costs.
Understanding the overall business—the flow and processes—are key, he said, especially when working with a lean crew. "We're not a huge IT department," he said. "We're 35 individuals."
"My hobby is my job," he added. "I'm not a person who should retire."•
Check out more CTO honorees..
Please enable JavaScript to view this content.