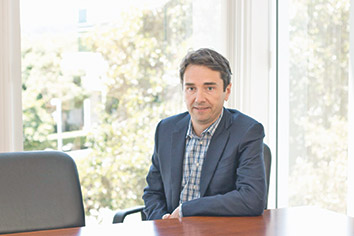 KAR Auction Services
Chief Technology Officer, President of KAR Digital Services
When a company is acquired, some entrepreneurs put in the required transition time and walk away.
Not Peter Kelly. He embraced a new set of challenges when he sold online vehicle auction company Openlane to KAR Auction Services in 2011. He now serves as chief technology officer for the publicly traded Fortune 1000 company with a $5 billion market value.
"Undeniably, it is a change," Kelly said. "But we had grown in 11 years to 300-something employees. We weren't the raw startup in a garage. And KAR is a pretty entrepreneurial company. In some respects, it was less of a change than you'd imagine."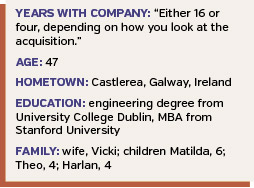 And it was good for both companies. "A purely online model isn't a perfect model," he said. "What's really needed is a great physical infrastructure coupled with a great tech platform. Being acquired gave us the opportunity to create a model that customers are really looking for. It's been an interesting opportunity to help write Chapter 2."
In evolving the company from a car-focused business that uses technology to a technology-focused company that sells cars, he led the change to mobile app development and invested in high-quality digital photography and better digital-condition reports. Including shots from various angles, and pan and zoom options. About 750,000 vehicle photos are now taken each week.
The result: Of nearly 4 million cars sold in 2014, 1.75 million were sold to online buyers, representing growth of 10 percent over 2013. As a result of these and other efforts, KAR earned the Digital Edge 25 award, which recognizes organizations that have leveraged digital technologies to transform their businesses.
This January, Kelly's role expanded to include president of KAR's Digital Services Group. Not bad for a man who didn't grow up immersed in tech.
"I grew up in rural Ireland and wasn't exposed to those devices back then," Kelly said. "I was pretty good at math and science."
Seeing himself as more of a businessperson than a technologist, Kelly became fascinated with the goings on in Silicon Valley in the early 1990s.
He ended up at Stanford, not only going after an MBA but also teaming up with classmates to look at business opportunities. "We stumbled on the used-car auction business and thought, 'This is a business that is going to be fundamentally impacted by technology but wasn't already well served.'"
"We were naive," he admitted. "We thought we would revolutionize the business overnight." Not quite. But they did raise $5 million in venture capital to help launch Openlane.
Kelly said not all his goals have been met—it is still his intent to become a U.S. citizen, like his wife and children. "Finding the time to get that done," he said, "has been a challenge."•
Check out more CTO honorees..
Please enable JavaScript to view this content.