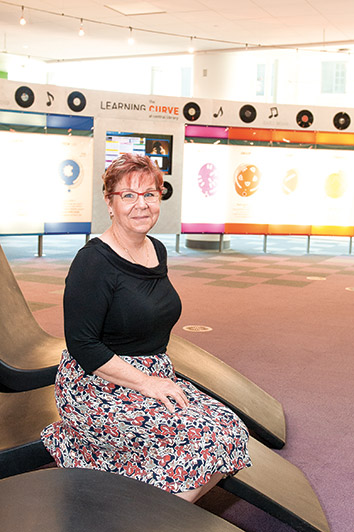 Indianapolis Public Library
Director of Technology
The Indianapolis Public Library has 550,000 registered cardholders and 1.8 million items in its collection. So managing IT for the organization is a big job, one Debra Champ took on just as ground breaking occurred on a major expansion of the Central Library, the flagship of the system's 24 locations.
Champ's job is about much more than making sure you get your renewal notices on time.
"Everything rides on the network now," said Champ, and that means not only maintaining the IT infrastructure but also making sure the 10,000 unique wireless devices that are used throughout the library system in a given week get their signals.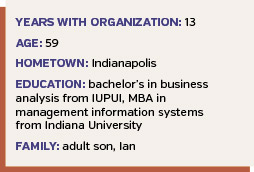 It means security monitoring, efficiently incorporating audiobook downloads into the library's offerings, adding an ask-a-librarian chat feature to its website, making Zinio—the world's largest digital newsstand—available for magazine reading, and creating a strategy through 2020 for technologies that might not yet exist.
The latest launch, which occurred in June, is the Freegal app, which allows patrons to stream music, ad-free, for three hours a day.
Champ didn't go the traditional route into IT. After finishing high school, she went to work at the architectural/construction management firm HNTB, where a mentor, Steve Goddard, encouraged her to get her undergraduate degree. Working full time, she completed the degree in nine years, graduating with honors—and five months' pregnant. Taking to higher education, she left HNTB and segued into a master's program at IU.
From there she landed at Anthem.
"That's where I learned real-life IT," Champ said. "I found that, when you have a master's, the jobs you get are pretty much to clean up stuff."
Within a year, one of Anthem's business units went from failing an internal audit to having all its processes and procedures in line, clearing the way for it to apply for new contracts.
From Anthem, Champ migrated to Community Health Network, where she kick-started the hospital system's HIPAA regulatory compliance efforts and reduced turnover in the IT department.
Now that Champ is in the public sector, "I always have my taxpayer hat on," she said. She pushes for metrics to assess whether library programs are working, and is less interested than many peers elsewhere in "bleeding edge" technology.
"My first thought is always, 'Give it 20 minutes,'" said Champ, who leads a lean, 15-person department. "All the nerds jumped on Google Glass, and it was discontinued in October. Technology has to fill a need. Money isn't always there and that's always a huge challenge."
People often ask her what will happen when the Internet replaces the library.
"I don't see that ever happening," she said. "It's a great equalizer. Libraries are very important in a free society. The content might change, but we'll always be around to help people who need help."•
Check out more CTO honorees..
Please enable JavaScript to view this content.