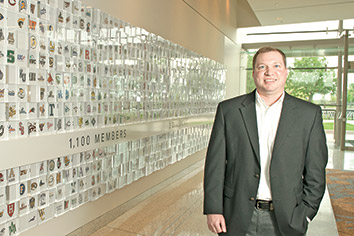 NCAA
Chief Information Officer
The NCAA regulates 460,000 athletes at more than 1,200 institutions. Judd Williams helped turn it from an organization with an internal score for IT quality of 54 percent to one at 72 percent. And his department topped all others at the NCAA in an organization-wide great-place-to-work survey.
Williams came to the NCAA in 2012 after spending 2-1/2 years working out of the Herbert C. Hoover Building in Washington, D.C., in the role of an FBI unit chief.
"If you've seen 'Criminal Minds,'" Williams said, "Hotch [Thomas Gibson] is the unit chief." At the FBI, he implemented a case management system called Sentinel and worked on top-secret projects with the Department of Defense, Army Test and Evaluation Command, and Missile and Space Intelligence Center.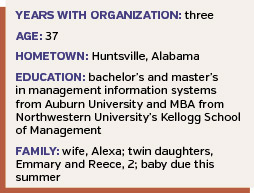 But he was ready for more public challenges. The NCAA CIO role was a dream come true for Williams. Not only was he a huge college sports fan and looking to grow his family somewhere between his hometown in Alabama and his wife's in Michigan, but, he said, "I didn't have to go through a polygraph for the job, so I took it."
While the cultures are vastly different, he said, there are a lot of similarities between the NCAA and the FBI, where he spent five years. "Both are there, as part of their missions, to enforce rules. Both have a case management system. And both are highly political"—although at the FBI people didn't try to score tickets from him.
"For the most part," he added, "it's the same. At the end of the day, you are moving ones and zeroes around and getting the right information to the right people at the right time." And while there are a lot of former athletes at the NCAA, the FBI's minimum fitness requirement meant that its gym, too, was always packed.
One of the biggest projects he initially faced at the NCAA: The IT department had no mobile applications.
"All of our apps were designed for desktop Web browsing." He and his team incorporated responsive design, which detects a user's screen size and orientation and changes the layout accordingly.
Last year, he shifted the NCAA's IT to the cloud, which freed up resources and saved money. He also has developed cleaner user interfaces and, this June, rolled out an Institutional Performance Program data-reporting app for Division I membership.
"We always have to look at what's new, what will be a passing fad, and what has merit to stick around," he said, "but we don't have to be out in front on a lot of things. We need to make sure the schools are getting the data they need."
No matter where Williams has worked, one thing has remained the same. "'Have you restarted your computer?' still fixes 98 percent of problems," he said.•
Check out more CTO honorees..
Please enable JavaScript to view this content.