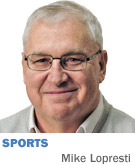 So you're ready for some football? Do we have a deal for you. It's the fantasy season ticket: Thirteen of the most compelling dates of helmet-bashing the Indianapolis area can offer—be it NFL, college or high school. The crème de la creamed.
This is your itinerary for the season. May all your weather be pleasant, all your parking spots be close, and all your footballs be properly inflated.
Aug. 21. Carmel at Hamilton Southeastern. These super-sized conglomerates of suburbia will always be uneasy neighbors, so why not kick off the season against each other? Carmel has a new coach, John Hebert, whose assignment is to maintain the Greyhounds at customary juggernaut level. Carmel names football coaches like the Vatican names popes. Think the Royals might like to make him 0-1?
Sept. 19. Virginia Tech at Purdue. Frank Beamer's nationally renowned program might have lost a step, but the Hokies are still a formidable invader in this first meeting ever between the two. Darrell Hazell is 4-20 at Purdue, the honeymoon long over, but promises better from his beefed-up Boilermakers.
"We're starting to look the part," he said the other day. This game will begin to tell us if it's true.
Sept. 21. New York Jets at Colts. The home crowd gets its first real-world look at what all the fuss is about. Do the Colts really have so many functions, they're sending out the Swiss Army Offense? Will the line leak like an old barn roof? Is the defense up to snuff? Have they improved the lousy popcorn? Stay tuned.
Oct. 2. Fishers vs. Cathedral. It's football for the first time ever at Victory Field. Presumably, that'll work out better than when Northwestern tried to squeeze a game into Wrigley Field, and there was so little room, both offenses had to march toward the same end zone.
Oct. 3. Ohio State at Indiana. If the past means anything—the Buckeyes have beaten the Hoosiers 20 consecutive times, and won two more national championships this century than Indiana has won bowl games—an upset will not be in the air. But the Hoosiers came out scrappy and caused Ohio State consternation last year in Columbus, leading 20-14 in the third quarter before giving way 42-27. Memorial Stadium will be packed—though a lot of the customers will be from Dayton and Lima, wearing scarlet and gray.
Oct. 9. Warren Central at Carmel. It's the Ali-Frazier of high school football. They have met seven times in four seasons, and the games have been decided by a total of 30 points, including such scores as 7-6 and 10-7. But never mind that; will Bub's Burgers be open again in the parking lot?
Oct. 18. New England Patriots at Colts. Really, need anything else be said? To review, the pertinent numbers are six (as in consecutive Indy defeats), 130-49 (combined score of last three games) and 12.5 (low end of legal inflation pressure of an NFL football). Just be in your seats in time to hear Tom Brady introduced.
Oct. 25. New Orleans Saints at Colts. What's that old adage—revenge is a dish best served … with nachos? Whatever, the Colts owe these guys. Their last two tries against New Orleans included the Super Bowl loss and a 62-7 pummeling.
Oct. 31. Nebraska at Purdue. Just in case anyone has forgotten, the last time the Boilermakers beat the Cornhuskers was 1958. Of course, they've played only twice since.
Nov. 8. Denver at Colts. Peyton Manning is 39. No man throws touchdown passes forever. This could be his last visit to Lucas Oil Stadium. Then again, he might be back in January.
Nov. 14. Late-season special! You choose! You can either go to Bloomington to see Tom Crean's brother-in-law—aka Jim Harbaugh—work the sidelines for Michigan. By the way, Indiana hasn't beaten the Wolverines since 1987. Or you can go to Greencastle to see the 122nd Monon Bell game. DePauw has lost six consecutive times to Wabash by a combined score of 212-50. The burden for the Tigers to do something about that might feel heavier than the 300-pound Bell.
Nov. 28. Old Oaken Bucket at Purdue. It's still not a good idea to play this on Thanksgiving weekend, but never mind. Not to put any pressure on the Boilermakers or anything, but they have lost two in a row to Indiana. The last time they dropped three consecutive was 1947.
Dec. 20. Houston at Colts. By then, will the division title be in the bag? Will home field advantage throughout the playoffs be on the line, so they'll be trying to avoid having to travel to Death Valley, otherwise known as Foxborough? Will the winning streak against AFC South opponents be 18 and counting, against the last division foe to beat the Colts? Much might be at stake that Sunday. Or not.
This concludes the fantasy season. But the football is now real enough. The next weekend in America without a kickoff will be Valentine's Day.•
__________
Lopresti is a lifelong resident of Richmond and a graduate of Ball State University. He was a columnist for USA Today and Gannett newspapers for 31 years; he covered 34 Final Fours, 30 Super Bowls, 32 World Series and 16 Olympics. His column appears weekly. He can be reached at mlopresti@ibj.com.
Please enable JavaScript to view this content.