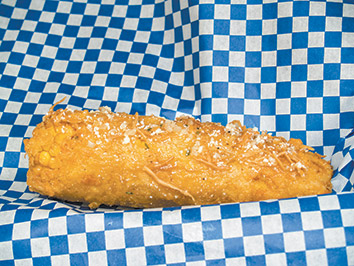 With a week left to go at the Indiana State Fair, there's still time to supplement the staples (elephant ear, Ben's soft pretzel, et al.) with some first-time offerings. Here's my take on the newcomers.
Deep Fried Sweet Corn, above, ($5, Barto's Concessions)
OK, every year something different has to be deep fried. I get that. But there's little gained from coating Indiana sweet corn with seasoned flour, corn meal and an egg wash and dipping it into hot oil. Not only does the corn's value dissipate visually, the crunch takes away from the corn's inherent flavor. I found myself peeling away the coating—which can be easily done—and mining the good stuff the old-fashioned way, making sure to get every delicious kernel.
Smoked Pig Patty ($6, Indiana Pork Association)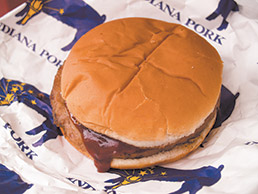 My only question here is, "How is this new?" So simple and so good (and reasonably priced), the Indiana-grown fully smoked quarter pounder comes unadorned, but I recommend giving just a squirt of Shoup's Country Foods' barbecue sauce (from Frankfort).
Maple Walnut Waffle Sundae ($5, Baskin Robbins)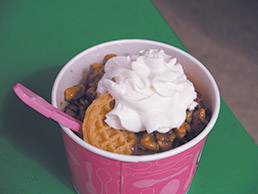 The fact that this concoction isn't even touted at the Baskin Robbins stand—instead, there's a sign for a 2012 offering—indicates a severe lack of commitment on the part of its creators. The maple is nice in the mix, but the cold mini Eggo waffles and excess whipped cream just get in the way.
Jamaica Patty ($5 or $12 as a platter, Da Blue Lagoon)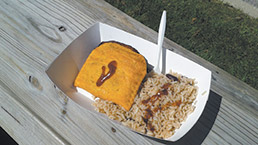 (IBJ Photo/ Lou Harry)
Everything on the menu here is new to the fair this year, since it's the first time for Da Blue Lagoon. And a welcome addition it is. You can park yourself with a platter sided with plantains, rice and beans or walk while you eat a Jamaica patty. Just be careful not to bite too hard and have the hot innards pour down over your hand.
Turkey Indiana ($8, Gobble Gobble)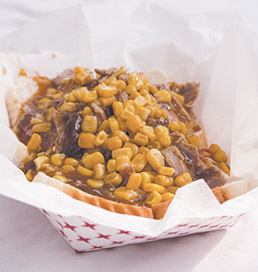 Don't be shy about asking for this one, since on our visit it wasn't even mentioned on the menu. The white-bread bottom layer carries peppery mashed potatoes, shredded turkey, gravy and crunchy sweet corn in this worthwhile variation on a turkey Manhattan.
Deep Fried Apple Bites on a Stick with Ice Cream ($5, Urick Concessions)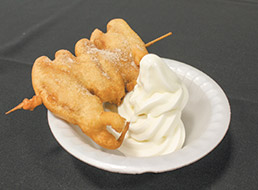 Urick stands are spread around the grounds, but you'll have to head to the funnel cake spot across the road from Pioneer Village to find these golden nuggets. A quartet of them, fried and sparkling with sugar, are skewered and served with a big mound of ice cream. Sharing is recommended.
S'mores Flavored Milkshakes/Munster Grilled Cheese on Raisin Bread ($5, American Dairy Association)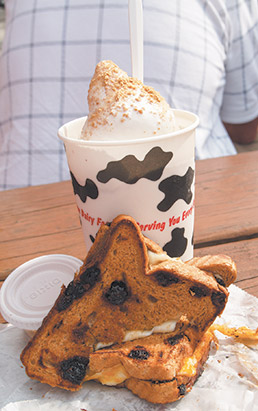 Leave it to the Dairy Barn denizens to not only come up with a winning new combo just about every year, but also to make it available at an appealing price point. Here you not only get a hot, melty, unexpected mix of Munster and raisins, but also a thick shake with optional graham crunchies to sprinkle on top.•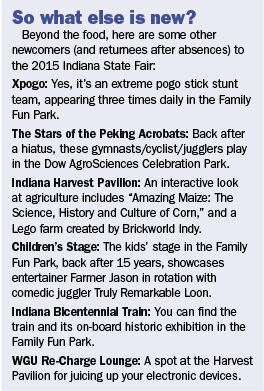 Please enable JavaScript to view this content.