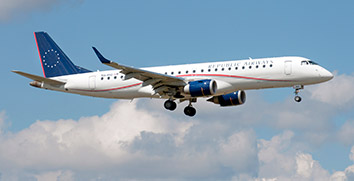 Purdue University and Republic Airways are working together to mitigate the effects of a national pilot shortage that could threaten both parties: The company says the shortage is partly to blame for its decreased profits, and the university fears the low pay that's driving the shortage could threaten student interest in its professional flight school.
They're hoping a new "pipeline" project will meet both their needs. Purdue aviation graduates will have an established connection with an employer once they leave West Lafayette, and Republic, which has faced lower productivity as a result of a long-term labor dispute, gets a steady stream of new first officers.
"We have a very close relationship that's become much closer in the last 12 months," said Purdue professor John Wensveen, who heads the college's Aviation Management Department.
The program is called the Industry–Purdue Opportunity Pipeline, or iPOP, and it's part of the Purdue Polytechnic Institute's effort to reinvent itself by better connecting its students to industry partners.
Now, students will work in their classes to solve real-world problems faced by Republic. Upon graduation, students are guaranteed an interview with the company to become pilots, engineers or mechanics.
Wensveen said recruitment to the flight school is getting harder. It takes longer and costs more to become a commercial pilot now, thanks in part to federal aviation rule changes that drastically increased required flight time for pilot certification.
Combine that with the traditionally meager starting pay that typically awaits early-career pilots, and rising student debt.
"One of the challenges we face is recruiting students into a program and showing them there is a career opportunity at the end of the line," Wensveen said.
Purdue hasn't yet been stung by decreased interest in its professional flight programs. The program solicits more applications each year from hopeful pilots than it has spots for, Wensveen said.
But if that changes, it would further strain regional airlines, including Republic.
Because of the Federal Aviation Administration rule changes, which went into effect in 2013, commercial pilots are required to have 1,500 flight hours before they can be certified, instead of 250.
Students can quickly rack up hundreds of thousands of dollars in debt getting the needed flight time. And starting salaries for first officers at places like Republic are only about $20,000 per year.
Wensveen said Purdue is exploring ways to give students an accelerated degree so the math makes more sense. This summer, some of its students tested a new, faster curriculum, which at one point took them to Indianapolis to practice on Republic's flight simulators.
Accelerating the degree could come as the result of leveraging Purdue's relationships with small, commuter airlines that don't require as much flight time for certification. Wensveen said negotiations for new partnerships are ongoing.
"Hypothetically, they would spend 12 to 24 months working as first officers with that airline," Wensveen said. "Once they've hit the 1,500-hour mark, they would move to a regional airline like Republic. The student was actually paid all the way along. We're making a real career for our students upon graduating."
Securing a talent pipeline will become increasingly important for Republic and its competitors. Republic says it maintains relationships with several top flight schools, including Purdue, the University of North Dakota and Embry-Riddle Aeronautical University.
Republican spokesman Bob Birge said the company is especially encouraged by Purdue's interest in strengthening their relationship given their proximity.
"It only makes perfect sense to do whatever is necessary to take advantage of those opportunities and provide them with opportunities here," Birge said.•
Please enable JavaScript to view this content.