The new head of research at the Indiana University School of Medicine thinks the institution is missing out on the more than $6 billion spent each year in the United States on clinical trials.

So Dr. Anantha Shekhar is determined to ramp up IU's work testing new drugs and medical devices in patients as a key strategy for pushing IU into the upper echelon of research-focused medical schools.

The school is in the midst of a five-year plan to hire 100 new researchers and grow its overall research funding from about $300 million a year now to $450 million. To help do that, Shekhar wants to more than double the $36 million a year the school currently gets from clinical trials.

Shekhar
"We're leaving a lot of opportunities on the table in that area," said Shekhar, 57, who became executive associate dean for research affairs on Aug. 1. He replaced Dr. David Wilkes, who left IU to become dean of the University of Virginia School of Medicine.

Clinical trials are the highly regulated human tests of new medical therapies and products that are required before those products can be sold on the market. In the United States, funding for clinical trials is split roughly evenly between private companies, such as Indianapolis-based Eli Lilly and Co., and the federal government.

Clinical trials are not the kind of research that produces breakthroughs and launches new companies—the kind of business activity that groups like BioCrossroads and the Indiana Health Industry Forum have been trying to promote in Indiana for years.

But clinical trials can bring in steady revenue that would help the IU medical school boost its overall research infrastructure, which would likely help it hire more researchers and help its researchers win more funding to pursue medical breakthroughs.

"Is it a piece of having a cohesive, coherent, life sciences cluster? Absolutely," said Kristin Jones, executive director of the Indiana Health Industry Forum, which represents companies making or using pharmaceuticals and medical devices.

The first goal for Shekhar, who is a psychiatrist by training, is to get more patients to enroll in clinical trials. Right now, less than 5 percent of all patients served by the IU medical school are participating in a clinical trial.

By contrast, leading medical research centers, such as the University of California, San Francisco or the Cedars-Sinai Medical Center in Los Angeles, have about 25 percent of their patients in clinical trials.

Often, IU signs up only half or even a third as many patients as it could under its clinical trial contracts, Shekhar said. If it enrolled the maximum number of patients allowed under its current contracts, the school's revenue from clinical trials would more than double, to $80 million.

"Most medical centers have a problem with [enrolling enough patients], but even so, ours is particularly bad," Shekhar said. "We're really low."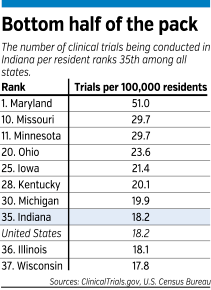 More patients

To address the shortage, the Indiana University Health hospital system—a separate entity from the medical school that operates the facilities where IU physicians treat patients—is rolling out a feature in its electronic medical record systems. It gives a doctor an alert whenever he or she is seeing a patient who would qualify for a clinical trial for which the IU medical school has a contract.

IU Health is starting that in the cardiovascular area now, and will next extend it to neuroscience and cancer.

"If a physician mentions a clinical trial, the likelihood of participation is over 80 percent," Shekhar said. "It's really an amazing influencer."

Dr. Phillip Toth, whose company Midwest Institute for Clinical Research, does $1 million in clinical trials each year, doubts that such alerts will work in the current environment in which doctors see patients. At the primary-care level, the average time a patient spends with a doctor is about 18 minutes.

"The people involved are too busy. Staff people don't have time to deal with this other stuff," said Toth, who leads a staff of nine who do nothing but clinical trials.

Toth recommended that the IU medical school create a dedicated business unit, with physicians assigned to it full time, that would seek out clinical trials that might become available and then connect those with patients seeing IU doctors.

He noted that medical schools such as Duke and Harvard have that kind of structure.

The IU medical school did recently create an Office of Clinical Trials. It also hired a person to oversee all the clinical trials IU does for Eli Lilly.

"We're trying to streamline some things," Shekhar said.

He has been trying to work on this issue for years as director of the Indiana Clinical and Translational Sciences Institute, a federally funded research collaboration between IU, Purdue University and the University of Notre Dame.

And some key structural changes have taken place. For example, the IU medical school has restructured many of its professors' contracts to include more incentives for doing research.

Speed matters

In addition, IU has worked to streamline some of its bureaucratic processes so it can start a new clinical trial faster. For example, it has developed more master contracts with pharmaceutical firms so the legal work doesn't create delays.

Dr. Kathy Miller, an IU med school cancer researcher who spends about half her time conducting clinical trials, said it takes about four months from the time a sponsor of a clinical trial has its final protocol in place until IU can start enrolling patients. That's faster than many other medical schools, she said.

"We're pretty speedy," Miller said, although she acknowledged private practices can be up and running faster.

But Toth said that's not speedy enough. A drug company typically will hire numerous medical centers and physician practices to help it enroll the patients for a clinical trial. Each center can enroll up to a certain number of patients, but, once the overall enrollment goal is met, enrollment stops—regardless of whether a particular medical center has reached its maximum number of allowed patients.

So speedy enrollment is critical to maximizing participation, Toth said.

"The buzzword, and it's absolutely true, is 'competitive enrollment,'" he said. "It's, if you snooze, you lose."

But the biggest obstacle the IU medical school will have to surmount is cultural, said Jones, head of the Indiana Health Industry Forum. Boosting awareness among patients, health organizations and community physicians of the opportunities to participate in clinical trials is needed.

Her organization, which has a clinical trials working group, will stage an event in January to highlight clinical trials and tackle barriers to getting patients enrolled in them.

Shekhar said the medical school is trying to talk more with doctors about the opportunities to treat patients via clinical trials. It is also trying to give grants to community groups that educate patients about clinical trials. And it's developing websites and digital marketing programs to spread the word.

If IU can lift patient enrollment, Shekhar thinks it will be able to compete for some huge clinical trials funded by the National Institutes of Health. Last year, for example, the NIH awarded a $30 million grant for the University of Michigan to lead a 10-site study of falls in elderly patients.

"Our hope is to really create a three- or four-pronged approach to this," Shekhar said. •