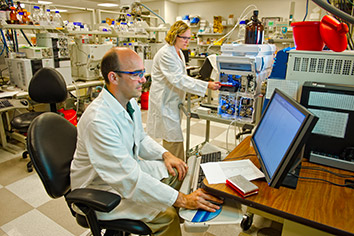 A diabetes drug sold by Eli Lilly and Co. and Boehringer Ingelheim GmbH lowered the risk of heart attacks, stroke and death in a large trial of adults with type 2 diabetes, compared with the standard of care alone.
Shares of Indianapolis-based Lilly were up 5.4 percent, to $88.29 each, late Thursday morning after earlier rising as much as 6.2 percent for the stock's biggest intraday gain since 2009.
In a trial of 7,000 people at high risk of cardiovascular events, patients taking Lilly and Boehringer's drug Jardiance were less likely to have a heart attack, stroke or die than those taking a placebo, the companies said in a written statement. Patients in the trial were getting other drugs to control their diabetes.
The results could give Lilly and Boehringer an advantage in a market crowded with diabetes treatments, where Merck & Co., Sanofi, Johnson & Johnson, and Novo Nordisk A/S have battled to win patients and doctors to their therapies.
Lilly and Boehringer said that the results make their drug the only one to show a reduction in cardiovascular death in a trial specifically designed to look for it. Cardiovascular disease is the leading cause of death among type 2 diabetics, according to the American Heart Association.
The companies plans to present full results of the study at a medical meeting next month.
Merck shares fell 4.1 percent Thursday, to $57.22. Novo dropped 1.4 percent and Sanofi fell 1 percent.
Jardiance belongs to a class of diabetes drugs called SGLT-2 inhibitors. The drugs block sugar from being absorbed into the kidneys, and instead excrete excess sugar through the urine, helping control diabetes. J&J and AstraZeneca Plc have competing SGLT-2 drugs.
Please enable JavaScript to view this content.