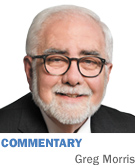 Six IBJ events remain in 2015. Here's the lineup:
• Power Breakfast Series—Commercial Real Estate and Construction, 8 a.m., Sept. 10, JW Marriott
• Power Breakfast Series—Health Care & Benefits, 8 a.m., Sept. 24, The Westin Indianapolis
• IBJ and Interactive Intelligence present—Cloud Services: Thrive or Die, 8 a.m., Oct. 9, The Westin Indianapolis
• IBJ and Fifth Third Bank present—2016 Economic Forecast, 8 a.m., Oct. 28, Indianapolis Marriott Downtown
• Women of Influence, 8 a.m., Nov. 5, Indiana Roof Ballroom
• CFO of the Year awards, 8 a.m., Dec. 4, JW Marriott
You can still nominate someone for both the Women of Influence and the CFO of the Year awards programs. If you want to nominate someone for Women of Influence, this requires your urgent attention; the deadline is Aug. 28. And the CFO of the Year nomination deadline will be here before you know it—Sept. 25. (A special note to CEOs—please nominate your CFO!)
To make a nomination, go to ibj.com. On the navigation bar at the top of the page, mouse over "events" for the drop-down menu. There, you'll find the opportunity to make your nominations online for each of these popular annual programs. Thanks in advance for your participation.
It's not an event open to the public, but while I'm talking about nominations, one of our most popular recognition programs—IBJ's Forty Under 40—has an early nomination deadline of Sept. 25. The celebration of our 2016 class of exceptional young talent won't happen until next February. But we're making preparations this fall to recognize what will be our 24th Forty Under 40 class. We need your nominations in the next 30 days.
In a column earlier this year, I touted a strong lineup of IBJ events that kick-started 2015. Our Health Care Heroes awards program and Technology Power Breakfast events were held in March. In April, about 500 people attended IBJ and Indiana Economic Development Corp.'s first-ever Aviation & Aerospace event. We'll be teaming up with IEDC for an encore performance in 2016.
Also in April, we hosted our annual Life Sciences Power Breakfast and another first-time event, partnering with EmployIndy to present "Mind the Gap," which focused on developing central Indiana's talent pipeline.
Since that time, we partnered with Conexus Indiana for our annual Manufacturing and Logistics event. And just a few weeks ago, we partnered with TechPoint for the inaugural CTO of the Year awards program. It was a big success, and I am eager to work with our longtime partners at Techpoint in the years ahead as this program develops.
We're looking forward to bringing in the year strong with our six remaining events. Individual tickets and corporate tables are available online, and a very limited number of sponsorship opportunities are available for the last two events.
So, next up is our Real Estate Power Breakfast at 8 a.m. Sept. 10 at the JW Marriott. It's been a big year in commercial real estate and we have six panelists, all experts in their field, who will contribute to a robust discussion of all things real estate.
Later in the month, our Health Care & Benefits Power Breakfast will start at 8 a.m. Sept. 24 at The Westin Indianapolis. Again, six expert panelists will help walk us through the maze of uncertainty that pervades the health care and benefits industries today. If you have a vested interest in either of these two hot topics, you won't want to miss these events.
Did I mention one of your benefits as a digital and/or print subscriber is that you get a $10 discount on IBJ event tickets and that amounts to a 22-percent discount? So, be sure to take advantage of great networking opportunities and extend your knowledge of local business news and information by attending upcoming IBJ events and others that happen all year long.
As always, thanks for reading and supporting IBJ.•
__________
Morris is publisher of IBJ. His column appears every other week. To comment on this column, send e-mail to gmorris@ibj.com.
Please enable JavaScript to view this content.