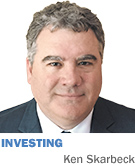 Commodities are in the midst of a nasty bear market, with prices spiraling lower. Oil, the most-watched commodity, has seen its price drop more than 60 percent in the past year, with a 33-percent decline just since June. Metal and mining commodities like copper, coal, iron ore and gold have been clobbered, hitting six-year lows. Agricultural commodities also have seen significant price declines, with corn prices cut in half over the past two years.
Commodity prices are largely driven by pure economics—namely the law of supply and demand. At present, global supplies are abundant and aggregate demand is relatively weak.
When it came to driving commodity prices up or down, in recent times the gorilla in the room has been China. Back in 2002, a so-called commodity super-cycle began as China unleashed its massive infrastructure build-out. The country had an insatiable need for copper and coal to produce electricity, and the huge demand for steel to build new Chinese cities sent iron ore and metallurgical coal prices rocketing higher.
While the 2008-2009 credit crisis put a damper on commodity prices, the effect was brief. Prices soon resumed their surge, peaking in 2011. The Mongolian city of Ulan Bator became an international city seemingly overnight as money poured in to buy the country's cache of commodities. Other commodity-rich countries like Australia and Canada thrived as China gobbled up materials during the boom. Africa, with its "frontier" store of commodities, began to show its potential on the world stage.
Yet now, as China's economy grapples with slower growth and internal problems, the commodity binge has turned from feast to famine. New technology for producing oil in the United States, developed from fracking technology, has kept oil production and supplies elevated.
The drop in commodity prices has had a deflationary effect on economies and is one of the reasons interest rates have been stuck at historically low levels. The Federal Reserve and central banks across the globe would like to see a modest rise in the level of inflation. An uptick in prices would allow interest rates to rise back toward more normal levels. It also likely would boost wages for workers who have endured years of stagnant wage growth.
The commodity washout is hitting financial firms. Glencore, the large, United Kingdom-based commodity trading firm, floated its initial public offering in 2011 and has seen its share price decline 70 percent since. Hedge funds that invest in commodities are closing left and right as clients stung by losses are demanding a return of what's left of their money. Pension consulting firms were advising clients to place enormous sums into commodity funds back in 2011, just when prices were peaking. With advice like that, it's no wonder pension returns have been subpar.
One would suspect that the rout in commodity prices might be nearing capitulation. However, with China's economic issues and muted global growth, there is little on the horizon to suggest a turnaround. The silver lining here is that lower commodity prices should filter through the economy and benefit consumers and businesses that use commodities as raw materials in their products.•
__________
Skarbeck is managing partner of Indianapolis-based Aldebaran Capital LLC, a money-management firm. His column appears every other week. Views expressed are his own. He can be reached at 818-7827 or ken@aldebarancapital.com.
Please enable JavaScript to view this content.