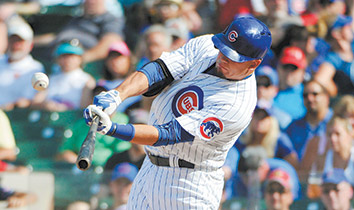 In the matter of the Kyle Schwarber story, one question.           
Is this real, or is this Hollywood? 
You remember Schwarber, getting a hit about every 15 minutes as he helped put Indiana University baseball on the map. That was what, barely 14 months ago? Now he's become such a Wrigley Field sensation, he might as well have "Phenom" on the back of his uniform. His tale is starting to remind everyone of "The Natural." Schwarber doesn't look much like Robert Redford, but he's playing like him.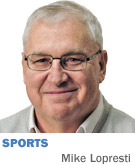 Take Aug. 18 in Wrigley Field, when he gunned down Detroit's Jose Iglesias at the plate from left field in the top of the fifth, then crushed a 429-foot, three-run bomb into the right-field bleachers in the bottom of the inning. That's doing the job both inbound and outbound.
Know what he did his first start as a Cub? Got four hits.  
Know what he did his 11th game in the major leagues? Tied the game with a homer in the ninth inning and won it with another homer in the 13th. That was in Cincinnati, with a zillion family and friends jumping up and down in the stands, since it was just down the road from his hometown of Middletown.
Know what he did the first time he ever faced a major-league pitcher, back in spring training in Scottsdale, Arizona? Hit a grand slam off the Giants' Ryan Vogelsong. On his 22nd birthday.
Know what his first 18 hits had in common? They were all on the road. The Cubs went through the archives, courtesy of STATS, and couldn't find anyone else who had done that going back to at least 1914. Who up there among the baseball gods is in charge of rookies? Kudos for the Schwarber script.   
In his first 12 games in the National League, Schwarber's batting average was .429. That was 80 points HIGHER than his last 12 Big Ten games at Indiana. He homered 10 times and drove in 31 runs in his first 36 games, and 119 at-bats. That put him in the top 20 in both categories among major-league rookies, even though he started the season as a Tennessee Smokie in AA ball, and has played less than a third of the Cubs' season.
Here's a sign he's truly arrived: A White Sox fan hurled a beer can at him during their crosstown series. He didn't seem to flinch much. "Tough crowds at Indiana University," Manager Joe Maddon deadpanned.
So here are the Cubs, up to their home pinstripes in the pennant race, and this one-man wrecking crew who could pass for a nose guard—listed at 6-0, 235—is a major reason why. In his first 28 starts, Chicago went 19-9. He caught 12 games, played another 10 in left field, and another six at designated hitter. He has given his manager more options, and the rest of the lineup another weapon.
Imagine if Schwarber helps push the Cubs through October. Not many men dead or alive can say they've done that. The last Hoosier to have such an impact in any professional sport would be, who? Maybe Antwaan Randle El, who threw a touchdown pass for the Pittsburgh Steelers in Super Bowl XL. And before that, Isiah Thomas as the floor maestro for the Bad Boys in Detroit.
But this is baseball. IU had Micky Morandini in the World Series for the Phillies and the division series for the Cubs back in the 1990s. And Ted Kluszewski, a four-time All-Star more than a half century ago. But it's a short list of Hoosiers who have made big waves in baseball, and Schwarber has rolled into Wrigley Field like a tsunami. Or a fairy tale.
Should we be surprised? There's a guy in Arizona who would be good to ask.
"Special players do special things," Tracy Smith said over the phone from Tempe, where he is Arizona State University coach, having left IU after the glory seasons of 2013 and 2014. "I don't know that anyone could say they would see it happen so quickly, but in the same breath, I don't think anybody's surprised that knows Kyle."
Ask Smith his favorite memories of Schwarber, and he'll mention the legendary missile he sent out of Louisville one day. Or the time Smith dropped by a Middletown game to recruit him. Schwarber wasn't that hot of a prospect, and when Smith bumped into a scout from another school at the game and told him he was there to look at the Middletown catcher, he'll never forget the response.
"The exact quote of that person's mouth was, 'Wrong catcher,'" Smith said. "Schwarber in that game hit three home runs. One to left field, center field and right field. It was funny, in the sixth or seventh inning, I'm darting around the park trying to find that guy to say, 'Wrong catcher, huh?'"
Ask Smith what he liked best about Schwarber, the Hoosier, and he'll tell you all the RBIs and homers were nice, but the person behind them was even better.
"He was a great player, but he didn't take himself too seriously. He never had a prima donna attitude. He just had fun and would come to work every single day. He had every accolade laid upon him in college, but you'd never know it if you would come and spend time with him in practice, or see how he interacted with his teammates."
Schwarber dropped by one of Smith's Arizona State scrimmages last fall. Next thing the team knew, Schwarber was behind the plate calling balls and strikes.
"That speaks to who he is," Smith said. "Here's a first-round-draft pick who signed for millions of dollars, and he comes out and volunteers his time umpiring one of our scrimmage games."
Smith has no doubt that what is good for the Cubs is also good for the IU program that both men served so well.
"What's kind of fun for IU right now is the fact he's having the success he's having in such a media market like a Chicago. That's going to be a benefit for future IU teams. People are going to flip on WGN, and they're going to talk about Schwarber and where he came from, and hopefully some of the talented kids from the Midwest will see that there's baseball at Indiana University."
He's also been good for Smith, who parlayed the Hoosiers' rise into leading one of college baseball's bluebloods at Arizona State. "People out here rave about him. I got to see that every day for three years," Smith said. "Truth be told, I'm probably not here without the success of guys like him. I have a lot to be thankful for with his short stint at IU."
And now, so do the Cubs. It hasn't taken Kyle Schwarber long to make a difference, but then it never does. He's so Midwest. His journey thus far is so Hollywood.•
__________
Lopresti is a lifelong resident of Richmond and a graduate of Ball State University. He was a columnist for USA Today and Gannett newspapers for 31 years; he covered 34 Final Fours, 30 Super Bowls, 32 World Series and 16 Olympics. His column appears weekly. He can be reached at mlopresti@ibj.com.
Please enable JavaScript to view this content.