It looks like just another roadside burger joint.

In fact, not too long ago, it was another roadside burger joint.

But when the former Frosty Mug—a Greenfield landmark for about 50 years—was reborn as simply The Mug (117 Apple St., Greenfield, 477-7550) in 2014, it kept the just-folks trappings but altered the menu lineup.

Make no mistake, the fryer and grill are still the focus of the kitchen. You can still get ice cream after a Little League game or a stroll through the park across the street. And nobody is pretending that what's on the menu is health food.

The difference is that the ingredients now have local pedigrees: The key elements in a bacon cheeseburger recently roamed nearby at Tyner Pond Farm and some of the produce on top made the short trip from Lush Leaf Farm or Greater Good Gardens instead of being crated and shipped from far away.

The Mug still has car-window service, but because more time is taken in preparing the food, I'm not sure there's a good reason to stay in your vehicle. Why not take a seat on the patio? There are a few counter seats inside as well—and games to play while you wait.

Our visit found a satisfying, nicely irregularly shaped Pork Tenderloin ($6.75) served in the traditional way—that is, extending a few inches beyond the bun. We ordered it breaded and fried, but the meat was so good we wished we had gone with the grilled. Lost under its dressing was The Wisconsin Dog ($3.50), which was difficult to find or taste with such an excessive pile of sauerkraut. Once we thinned it out, no problem.

For sides, the spuds in the Pork Fries ($4) also got a bit lost under the pulled pork and house-made coleslaw, but the toppings succeeded in making up for it. Onion Rings ($3.50) were thick and crunchy but a bit heavy on the oil. A Bacon and Sweet Bowl ($2.50)—actually more of a cup—was a low-key alternative side. It featured fresh bacon bits and kernels of sweet corn tossed with fresh leeks.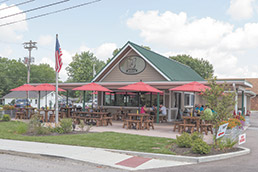 At The Mug, you can dine in your car in the back or take a table out front. (IBJ Photo/ Eric Learned)
Other sandwiches include Burgers (starting at $4.50) from grass-fed, antibiotic-free cattle; Cubans ($8.25); Grilled Chicken ($6.75); and Aunt Polly's Sloppy Joe ($3.75)

For dessert, Bacon Wrapped Apples ($4), temping in a State Fair kind of way, weren't worth the anticipation. The dessert didn't offer the pleasure that should come with eating something this bad for me. Hand-dipped ice cream, soft serve, or perhaps the Sundae on the Farm brownie concoction would have been better.

Sprecher's Root Beer ($2 to $3) is the required drink to go with any of the above. It's called The Mug, after all.•

—Lou Harry