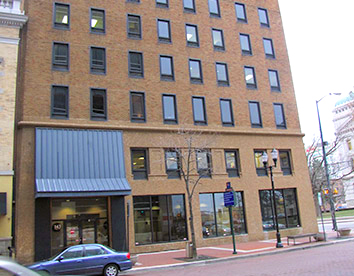 The Indiana Association of Realtors has purchased the historic Harrison Building at 143 W. Market St. in downtown Indianapolis and plans to use it as its new headquarters.
The eight-story, 46,800-square-foot building was sold by the Indiana Public Retirement System for $2.8 million. The sale closed Aug. 13, the IAR announced Thursday.
Opened in 1928 as the Harrison Hotel, the building was remodeled for office usage in 1971 and remodeled again in 2004. Located at the southeast corner of Market Street and Capitol Avenue, the building is directly across the street from the Indiana Statehouse.
IAR plans to occupy two floors of building and lease the remaining six, including the ground floor.
"I can envision the Harrison Building becoming a hub for businesses engaged in government relations work," said real estate broker Ryan Zickler of Zickler Associates LLC, who represented IAR in the acquisition. "It takes advantage of proximity to the Statehouse while also being within walking distance to Lucas Oil Stadium, restaurants, and multiple hotels."
IAR, which has more than 15,000 members, will be moving from leased space in the Chamber of Commerce Building at 320 N. Meridian St.
"It's fitting that the organization that represents location, now owns a prime location in the Statehouse neighborhood," IAR Chief Executive Karl Berron said in a written statement. "Our hope is that the building stands as a symbol of what our industry so strongly advocates for every day—property ownership and vibrant communities—to state policymakers for many years to come."
Designed by noted local architect William Earl Russ, the Harrison is one of two surviving historic hotel buildings in the city's Monument Circle historic district. Russ also was involved in the design of the Fairgrounds Coliseum, Piccadilly Place and Lockefield Garden.
The building will require some remodeling.
"It's too early to share definite plans for the building," Berron said. "But it's safe to say we're committed to its history and architecture. And the rooftop offers an incredible view of the Statehouse dome and downtown Indy, one that makes you feel the buzz surrounding Monument Circle and the convention center. We're excited to put this opportunity back on the market."
The Indiana Public Retirement System had about 60 employees working in the building, but decided to move them to its main offices in the One North Capitol Building.
The Harrison Building was put on the market in May. The property was listed by the Indianapolis office of Jones Lang LaSalle.
Please enable JavaScript to view this content.