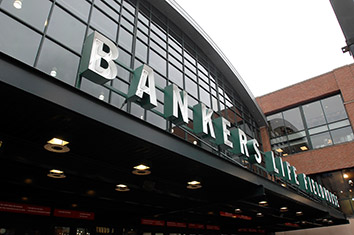 The Indiana Pacers received unanimous approval from the Capital Improvement Board on Monday to build a $50 million practice facility across the street from Bankers Life Fieldhouse.
Pacers Sports & Entertainment would like to build the five-story facility on city-owned land on Delaware Street now occupied by an elevated employee parking lot.
The 130,000-square-foot facility would include a practice gym and office space.
PS&E said it would pay the costs to construct and operate the facility while paying the CIB, a municipal corporation, $1 per year in rent for the land usage.
According to the agreement, the CIB would receive ownership of the training facility after a 40-year-period, or after 50 years if the Pacers take a 10-year extension option.
The first three floors would be used for a practice court, offices for basketball operations and parking facilities. The fourth floor would be used as offices by PS&E, and the fifth floor would be leased to a separate tenant.
The Pacers would practice in the new complex, leaving the existing practice gym in the Fieldhouse to the Indiana Fever.
The agreement calls for the CIB to provide the Pacers with 204 additional parking spots in the Virginia Avenue Garage to compensate for the displaced spaces on the elevated lot.
CIB President Earl Goode called the deal "a win-win."
"This is not the most developable parcel," Goode said at Monday's CIB meeting. "To have that kind of facility there is great. This is a good piece of news."
The Pacers said they would reveal details for the project at a Wednesday morning presentation.
"I have a sense they're eager to get moving," Goode said.
It remains unclear if this new development will be subject to property taxes. That issue, said CIB attorney Toby McClamroch, "would be between the Pacers, the assessor and the City-County Council."
City-County Councilwoman Maggie Lewis, a CIB member, was unsure whether the building would be taxable.
The project would still need some approvals from the Department of Metropolitan Development.
Pacers spokesman Bill Benner said the team needs the new facility "to stay competitive in the NBA."
"Since 1999, 20 NBA teams have either built, are in the process of building or are planning to build stand-alone (training) facilities. Competition for free agents is keen," Benner said following Monday's CIB meeting. "(Players) also come from college programs that have incredible state-of-the art facilities. The Simon family wants to do everything they can to invest in the team and strive to win championships.
"These are elite, elite athletes that require state-of-the-art facilities."
Pacers officials would like to start construction "as soon as possible," Benner said, and the facility should be completed within 18 months to two years.
 
Please enable JavaScript to view this content.