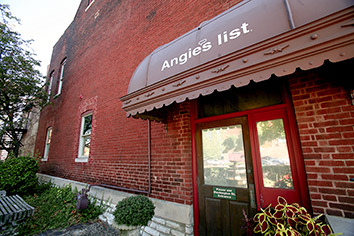 A New York-based activist hedge fund has boosted its stake in Angie's List Inc. for the second time in less than a month, according to public filings, and is seeking multiple seats on its board of directors.
TCS Capital Management LLC disclosed Monday that it had a 9-percent stake in Indianapolis-based Angie's List, a home-services reviews and marketplace company. That's up from the 6.5-percent stake it disclosed July 29 and a 1.8-percent position it had at the end of the first quarter.
As it beefs up its shares and influence, the hedge fund says it's looking to enhance the value of a company that's having its worst year on the stock market since its $15-a-share initial public offering in 2011. One option could be a sale, it said. Angie's shares traded around $4.71 early Tuesday, little changed from their previous close.
In Monday's filing, TCS said it intended to seek up to three Angie's List board seats for TCS representatives and at least one board seat for someone not affiliated with TCS.
TCS also reiterated some of its intentions laid out in the July 29 filing, including having input "regarding the operations and strategic direction of the [company], consideration of a potential sale of the [company], strategic business partnerships and combinations and the pending selection of the [company's] next Chief Executive Officer."
Angie's List has nine board seats, one of which was vacated when former CEO Bill Oesterle resigned June 30. (IBJ Media co-owner Mickey Maurer is a board member, as well as an investor in the company.)
In an email, an Angie's List spokeswoman said: "We value the views of our shareholders. We have had an ongoing dialogue with TCS. We are considering the matters TCS raised and expect to continue discussions with them as we do with all of our shareholder[s]."
TCS President Eric Semler didn't immediately return calls seeking comment.
TCS's moves come as Angie's List struggles to eke out profits and attempts to grow transaction revenue while maintaining its longtime paid membership model. The 20-year-old company has increased revenue at least 19 consecutive quarters, but has turned a profit in only four of those quarters.
Its stock price peaked around $28 a share in mid-2013, but has been under $7 a share most of this year.
TCS holds 5.3 million shares, the second-largest stake held by an institutional investor. The largest institutional investor is T. Rowe Price Associates Inc., which had 8.2 million shares, or a 13.5 percent stake, as of June 30.
Despite the activist steps, TCS is a "smallish, usually non-activist, fund with only $150 million" in assets under management, Investment blog Activist Stocks noted last month. This is its first activist position in close to eight years, the website said, and only its third since its 2001 founding.
 
Please enable JavaScript to view this content.