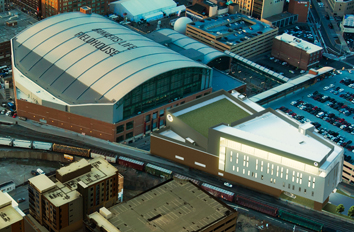 The Indiana Pacers' new five-story training venue will be called the St. Vincent Center and include a facility on the fifth floor where primary care, cardiovascular and sports performance services will be offered for the general public.
In addition to St. Vincent signage on the outside and inside of the new facility, the sponsorship deal also includes putting the St. Vincent logo on the Pacers' practice jerseys, officials from both organizations announced Wednesday at Bankers Life Fieldhouse.
The Pacers aim to get started on the project this year and plan to open it in 2017.
Financial terms of the deal between the Pacers and St. Vincent Health were not disclosed, but both sides touted the new facility as a big improvement for the southeast quadrant of downtown.
"Today, we are partnering with the Indiana Pacers to expand our high-quality, compassionate care to downtown Indianapolis in order help improve the health of area residents and the community," St. Vincent CEO Jonathan Nalli said Wednesday.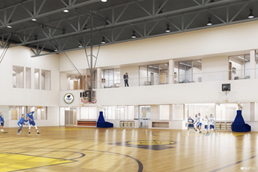 The facility will include NBA-regulation practice courts for the Pacers. (Image courtesy of the Indiana Pacers)
For the Pacers, the St. Vincent Center will house two NBA-regulation practice courts, as well as the most modern training and medical facilities required by professional sports teams, Pacers officials said. Most of the Pacers Sports & Entertainment offices also will move to the center, allowing future re-purposing and modernization of current space in Bankers Life Fieldhouse.
Pacers spokesman Bill Benner said the former fieldhouse office space could be transformed into some type of public space.
The new 130,000-square-foot facility will be built in a pie-shaped space on Delaware Street immediately east of the fieldhouse and adjacent to the Virginia Avenue Parking Garage. The space is currently an employee parking lot.
Pacers officials said the team will pay the costs to construct and operate the $50 million facility while paying the Capital Improvement Board, a municipal corporation, $1 per year in rent for the land usage. CIB unanimously approved using the land for the project on Monday.
It remains unclear whether the facility will be subject to property taxes. That issue, said CIB attorney Toby McClamroch, "would be between the Pacers, the assessor and the City-County Council."
The current practice court in Bankers Life Fieldhouse will still be used by the Indiana Fever. But with the Pacers moving their practices and training across the street, the fieldhouse space will be free for more diversified uses, Pacers officials said. Many events, such as the Big Ten basketball tournaments, use the current practice court for media and other purposes.
The new facility will be key in attracting top-flight NBA free agents and retaining the Pacers' current stars, Benner said.
"We know this facility will be a great addition for all of us and everyone at Pacers Sports & Entertainment," Pacers President of Basketball Operations Larry Bird said in a prepared statement.
"I'm very excited about the joint venture with St. Vincent. We see some major synergies between the two companies working together, especially in the same building," Bird said. "This is a state-of-the-art facility that helps a small-market team compete for top talent in a very competitive business."
Please enable JavaScript to view this content.