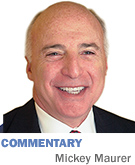 Cement trucks, dump trucks, food trucks—all clog the streets of Carmel as construction wreaks vengeance on our summer activities.
Barriers, barricades, traffic cones—all disrupt traffic on almost every street in town. (I live one mile from 106th and Meridian but must drive three miles and about 20 minutes to get there.)
Telephone lines, electric lines, cable lines—all cut and snapped, disrupting the normal flow of commerce. During yet another outage, my highly efficient, "crackerjack" assistant was knitting at her desk last week—in the dark. Based upon prior experience, she came prepared.
Detours, diversions, lane closures—all slow the speed of business, and when you finally break free—speed traps. The frustration level is worse than rejection at the drive-in theater on a Saturday night.
Street widening, bridge building, roads opening, roads closing, sidewalks blocked, intersections created and intersections destroyed—the havoc fosters confusion and delays. At least two or three times a week we receive frantic calls at our 116th and Meridian office with the inquiry, "How do I get there?"
I know how to get there. I've lived in Carmel more than 30 years and have had business and personal ties to the community for longer than that. As a teenager, more than a half a century ago, I remember with fondness the drive up Rangeline Road to the movie theater where we purchased tickets for $1 each and where the price of popcorn did not exceed the budget of emerging countries—and it was fresh. I always loved Carmel and today, well, even more.
Is all this disruption worth the trouble? YES.
Under the stewardship of six-term Mayor Jim Brainard, the city of Carmel has become a first-class neighborhood for tens of thousands of new residents who are enjoying a quality of life not matched anywhere in the Midwest. Gone is that little theater on Rangeline but in its place, the Center for the Performing Arts, including the Palladium, a $130 million concert hall that has lured top-tier performing artists including Tony Bennett, Johnny Mathis, Yo-Yo Ma and the incomparable Michael Feinstein.
And those roundabouts—almost 100—more than any city in the world—with plans for two dozen more. Roundabouts are a significant contributor to the quality of life in Carmel. They are safer and take less time, resulting in gas savings and fewer emissions. Today, I zip through a roundabout only to hit the next barricade. But soon, when normalcy prevails, Carmel will open its welcoming arms to automobiles that will reach all corners in a speedy, efficient manner.
Carmel is a welcoming place that embraces diversity. That was not always the case. Carmel had to live down the bad behavior of police who detained drivers on a charge of DWB (driving while black). A new ordinance with broad support has been proposed that will protect residents from discrimination based on sexual orientation, race, color, religion, national origin, gender, disability, family or marital status, ancestry, age and veteran status. According to Brainard, "That covers everybody we can think of." It applies to anyone participating or entering into business, housing, public accommodations, education, employment, contracts, program services and amenities.
Carmel is growing up and filling out. Runners, walkers, bicyclers—all enjoy numerous parks and playgrounds. Restaurants cater to every ethnic taste— Thai, Chinese and Italian—all within minutes.
Lately, because of construction disruption, I have had lots of time to sit in my car and think about where I live. For most of my life, in response to the inevitable question, "Where are you from," I said, "Indianapolis." Today in answer to that question, I stand up and proudly proclaim, "I'm from Carmel."•
__________
Maurer is a shareholder in IBJ Corp., which owns Indianapolis Business Journal. His column appears every other week. To comment on this column, send email to mmaurer@ibj.com.
 
Please enable JavaScript to view this content.