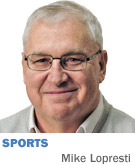 Reggie Wayne is a New England Patriot. No doubt many of you have been chewing on that, and trying not to gag. It's been several days since the announcement, but doesn't it still taste like the stuff they give you the night before your colonoscopy? Could you have ever imagined that sentence five years ago? Or even one month ago?
Reggie Wayne is a New England Patriot. What next, Urban Meyer as a spokesman for Pure Michigan? Donald Trump as a Democrat? You could tell this was going to be a summer of strange alliances when the raptors ended up the good guys in Jurassic World.
Reggie Wayne is a New England Patriot. Had he become a Green Bay Packer or San Francisco 49er or Dallas Cowboy, nobody blinks. Nobody around here begrudged Peyton Manning his Denver Bronco uniform. But Wayne's decided to go to Foxborough. That's like the South Korean defense minister deciding against retirement for a new job in Pyongyang.
We haven't seen a switch to the dark side like this since Anakin Skywalker took his light saber to the Empire.
Reggie Wayne is a New England Patriot. OK, get over it. But first, let's line him up against history's other famous turncoats and see how he compares.
He's just 6 feet tall. That makes him taller than Benedict Arnold.
His time in the 40 way back in his draft year was 4.45. That makes him faster than Judas Iscariot.
He'll turn 37 in November. That makes him older than Robert Ford, when he shot Jesse James in the back.
He's caught 82 more touchdowns than Mata Hari, played in two more Super Bowls than Tokyo Rose, and been named to the Pro Bowl six times more than Vidkun Quisling. Wayne played at the University of Miami. Julius and Ethel Rosenberg didn't.
John Dillinger, another noted Hoosier, had his woman in red. For the Colts, Wayne is to be the receiver in blue. Patriots blue.
But I come to praise Reggie Wayne, not to bury him. Any hard feelings and regret, while reasonable instincts for the masses of Lucas Oil Stadium, are unfounded. The natural enemy of every athlete—the ticking clock—is beginning to corner Wayne, and a man has to maximize his last chance. Even if it is with the KGB.
Admit it, the Patriots know their way to the Super Bowl better than Indy taxi drivers know their way to Broad Ripple. Admit it, playing for Bill Belichick seems a lot more appetizing than inviting him for dinner. Admit it, Tom Brady—perhaps you've heard his name mentioned lately—would be a grand quarterback for any self-respecting receiver. Brady's honesty, judgment and ethics might be under question, but not his ability to throw passes and win football games. Especially against the Colts.
So really, why not? It's not quite like LeBron James taking his talents to South Beach. If you were pushing 37 and wanted one more shot at January (and February), where would you go? Even if it is like a mongoose lining up for the cobras.
Can any more plot lines be stuffed into Oct. 18? The Patriots' visit to Indianapolis will have so much hype, it ought to come with a Roman numeral. It would be compelling enough theater, just because of two Super Bowl aspirants involved. Then you add in the Brady suspension, the recent lopsided past, the January pain for the Colts. And now, Reggie Wayne is a New England Patriot.
The guess is—assuming he is still upright and active by then—that he will get a loud Manning-back-for-Denver cheer upon introduction that night. He's on his way to the Ring of Honor one day. Even if he is spending a little autumn time with Attila and the New England Huns.
What happens, though, if he slashes across the middle to score? Is the world ready to see Lucas Oil Stadium cheer a Tom Brady touchdown pass? Not if it came against ISIS.
But let us not condemn Wayne, who has 14,345 more receiving yards than Brutus. Remember, a man can't play forever, so he must take the door that opens. He'll still have his No. 87 retired one day. Which is more than you can say for the guy who turned on the 300 Spartans and gave up the secret pass at Thermopylae to the Persians.
Still, it's easy to sense the anguish out there. Reggie Wayne is dead to some of you. And you keep asking, "Why, Reggie?" Run post patterns until you're 45, but why the team on the other side of the NFL Iron Curtain?
Maybe he can't fathom retirement. Maybe he needs another challenge. Maybe he feared empty Sundays, and went with the first good team that asked. Actually, we might be missing the simplest explanation of all.
Maybe he just likes to catch flatter footballs.•
__________
Lopresti is a lifelong resident of Richmond and a graduate of Ball State University. He was a columnist for USA Today and Gannett newspapers for 31 years; he covered 34 Final Fours, 30 Super Bowls, 32 World Series and 16 Olympics. His column appears weekly. He can be reached at mlopresti@ibj.com.
Please enable JavaScript to view this content.