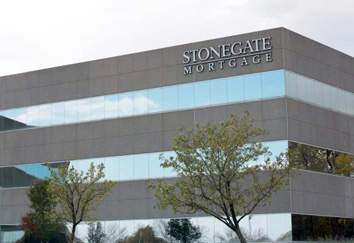 Jim Cutillo, founder and chief executive of Stonegate Mortgage Corp., plans to resign next week, and the company has appointed a temporary CEO until it finds a permanent successor.
The surprise departure prompted analyst speculation that the Indianapolis-based company might be preparing to put itself up for sale.
Cutillo, 47, will exit his CEO post and his seat on the company's board effective Sept. 10, the company said in public filings this week, marking an abrupt ending for the man who founded the company 10 years ago.
Stonegate said it tapped board chairman Richard A. Kraemer, 71, as interim-CEO and hired James V. Smith, a former Bank of America Corp. executive, as president and chief operating officer.
The non-bank mortgage company, which has been struggling to meet Wall Street expectations lately, didn't give a reason for Cutillo's sudden departure. In a press release, it said Kraemer will oversee the day-to-day management of the company "until the search for a permanent CEO with the requisite leadership and mortgage industry experience is completed."
Cutillo will serve as a consultant to the company over the next six months. It's unclear what his plans are beyond that. Company officials declined further comment.
In a written statement, Cutillo said he would be "redirecting [his] entrepreneurial energy on a new endeavor going forward."
"I am proud of the growth and development of Stonegate Mortgage since the company was founded 10 years ago," he said. "We have a great team in place that has accomplished so much during a time of transformation in the mortgage industry. The strategic investments we have made in technology have positioned the company for growth and success, so now is the right time for me to leave Stonegate."
Stonegate originates, finances and services mortgage loans in 48 states. Cutillo founded the company with his wife, Barb Cutillo, in 2005 and took the firm public in October 2013 at around $18 share.
Shares rose 10.7 percent Tuesday to close at $7.98 each.
In a research note this week, analysts at FBR Capital Markets said the company is likely put itself up for sale if it can't "achieve revenue growth to match its current expense base."
"Stonegate has disappointed investor expectations broadly, and a change was needed for a restoration of confidence, in our opinion. This management change forces the company's hand to clean up the business in rapid fashion," analysts said.
Stonegate reported earlier this month that it earned $11.1 million, or 43 cents a share, on $87.4 million in the second quarter. Adjusted for one-time gains and costs, the firm lost 4 cents a share, well short of analyst earnings estimates of 22 cents a share.
The company beat analyst expectations in the first quarter, but missed them in the third and fourth quarters last year.
Stonegate said Smith will be responsible for overseeing all of the company's operations. Smith has been director of U.S. mortgage operations for technology consulting Wipro Limited since 2013. Before that, he senior vice president with Bank of America Corp., where he was responsible for directing residential mortgage loan-fulfillment activities.
Cutillo has built a reputation as a blunt, hard-driving CEO. In an October 2014 profile, he told IBJ that when his IPO investment bankers tried to dissuade him from going public amid the market volatility in fall 2013, he resisted and told them he "wasn't going home without a deal," whether they were involved or not.
He said he admired former Indiana University men's basketball coach Bobby Knight.  Speaking about himself, Cutillo said his toughness and directness should not come as a surprise to employees, and he had no problem telling those who disagreed with his style that they could go work elsewhere.
"People who come here already know who I am," he said.
Cutillo has not been a stranger to controversy. In a 2012 legal dispute with an employee of a mortgage origination partner in Ohio, Cutillo allegedly said he wanted to bury that employee "in the backyard of a house," according to court documents.
Last year, IBJ discovered that Cutillo had not earned his bachelor's degree from Indiana University as his executive biography and past media information from the company had stated. Filings with the Securities and Exchange Commission, prepared in advance of the firm's public offering and during Stonegate's time as a public company, did not describe him as an IU graduate.
Last October, Cutillo acknowledged to IBJ that he did not earn the degree. He apologized for the confusion and took the blame for not fact-checking and correcting the various public references to a degree.
"I'm very disappointed in myself. I'm professionally embarrassed," he said. "I never wanted to represent something that wasn't factual."
 Born outside of Philadelphia, Cutillo said he enlisted in the Army just after high school in 1987. He enrolled at Austin Peay State University that year as part of an Army degree-pursuit program. He transferred to IU in 1989 and was commissioned as an Army officer in 1991, he said, just short of obtaining his degree. 
"Over the past 10 years Jim Cutillo has grown Stonegate from its inception as a local Indiana residential mortgage company into a fast-growing public company operating in 48 states," Kraemer said. "Jim has led the company through a period of great change and growth, and his efforts are greatly appreciated."
Barb Cutillo remains listed as Stonegate's chief administrative officer, according to the company's website.
Please enable JavaScript to view this content.