USA Funds' business is dying.

But the Fishers-based not-for-profit with nearly $600 million in annual revenue is determined to find new life doing what it's always done—helping students pay for college degrees.

United Student Aid Funds Inc., or USA Funds, has for decades guaranteed federally funded student loans that were initiated by private companies such as Sallie Mae. As part of that financial backing, the outfit also provided default-prevention counseling and collection services.

But after the federal government took over the origination of all student loans in 2010, new business dried up for USA Funds and more than 30 other student loan guarantors.

Hansen
Because some students pay off loans each year, the portfolio of loans USA Funds guarantees has dropped 42 percent, from $91 billion to $53 billion, over the past five years. In another decade or so, it will likely dwindle to nothing, said CEO Bill Hansen, a former deputy secretary of education under George W. Bush.

But USA Funds isn't in wind-down mode. In fact, it has hired a bevy of people to ramp up its philanthropy arm, including former Bush education official Carol D'Amico and former Indiana Chamber of Commerce lobbyist Derek Redelman.

USA Funds, which has more than $1 billion in assets, is now doling out $25 million per year in grants, more than double its 2013 pace of $10 million. Those grants fund such efforts as student-success coaching and advising tools on college campuses, as well as policymaking organizations trying to create clearer pathways between college and careers.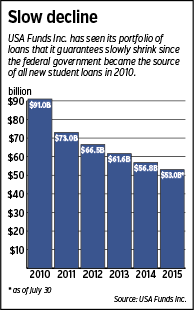 USA Funds also hired David Shane, who was Republican Mitch Daniels' main education adviser during his first term as governor, to serve as chief operating officer. And the organization is investing in education-related businesses and backing investment funds focused on education—all in an attempt to find a business to replace its guarantee operations.

"We've got to find ways to change the organization from an old legacy stand-alone company to a nimble, holding-company type operation," Hansen said.

Most student loan guarantors are in the same situation, said Ben Miller, senior director for post-secondary education at the Center for American Progress, a left-leaning think tank in Washington, D.C.

Some of those are state-affiliated agencies. And some are not-for-profits.

"What you're seeing is a lot of work by guarantee agencies to see what the future looks like for them—if there is one," Miller said.

Since USA Funds is the largest of the not-for-profit guarantors, it has one of the best chances to survive, he said.

"When you have as much money as they have, you can buy a purpose," he said.

That is essentially what USA Funds is trying to do now. Hansen and D'Amico, who worked together in the Bush administration, developed a focus for USA Funds called "Completion with a Purpose."

Their strategy aims, through both philanthropy and operations, to address the misalignment between the skills college students have when they graduate and the skills employers want. That so-called "skills gap" has been blamed for roughly 5 million unfilled jobs nationally.

D'Amico
"The connection between education and the economy hasn't been something [many foundations] have focused on," D'Amico said. "It resonates with people. It's resonating with policymakers."

USA Funds recently gave $500,000 to help Purdue University launch its Polytechnic High School in Indianapolis that will provide a bridge for IPS students who want to pursue math and science degrees at the college. Also, USA Funds has financed an effort by the U.S. Chamber of Commerce to create contracts between individual employers and specific universities, so they can work out the kinds of skills that need the most focus.

Its own path

USA Funds could have converted itself into a foundation, as the Indianapolis-based Lumina Foundation for Higher Education did. Lumina was created from the $770 million in proceeds generated when USA Funds' predecessor, USA Group, sold most of its assets in 2000 to Sallie Mae.

USA Funds lived on as a separate entity, with 180 employees, although it has retained close ties to Sallie Mae.

Hansen said USA Funds board members wanted to remain a "public charity" rather than a foundation. They felt USA Funds could have the greatest impact in that structure.

"The higher education system is really going through a perfect storm right now," said Hansen, sitting at a conference table in his office, with the sound of semis zipping by behind him on Interstate 69. "I really feel like USA Funds is uniquely positioned to step in and become a powerful agent for change."

One avenue USA Funds is pursuing is marketing its existing services to universities—including financial-literacy counseling, so students don't borrow more than they truly need or will likely be able to pay off, and default-prevention counseling when students get behind on payments.

USA Funds recently won contracts to provide those services to the California community college system and to the two- and four-year university systems in Oklahoma.

"Those are the types of services the universities used to get for free," Hansen said. "Now we're trying to really make those stand-alone products."

Because the federal government does not provide those services now that it handles all new student loans, Hansen said, both the amounts of borrowing by college students and the rates at which they default have surged. But supporters for the federal direct student loan program say those recent increases are related to the economy and the swelling price of college, not to the nationalization of student loans.

Dwindling fees

Even so, the revenue USA Funds has received from its default-prevention services pales compared to what it received for collecting on defaulted loans. In the fiscal year that ended Sept. 30, 2013, USA Funds pulled in more than $382 million in collection fees on defaults, versus less than $30 million on default-prevention services. Its guarantee services, which are like insurance for private lenders, brought in less than $40 million.

Since the heavy collections revenue is due to evaporate, Hansen is searching far and wide for ways to replace it.

In January, USA Funds bought a minority stake in California-based Roadtrip Nation, which produces videos that explore different careers and the educational pathways necessary for them.

In February, USA Funds provided $3 million to start the Jefferson Education Accelerator at the University of Virginia's Curry School of Education. The accelerator aims to help educational technology companies with at least $1 million in revenue bring their products and services to market with the help of Curry faculty. Its founders told Insider Higher Ed they might expand later to act as a quality-control organization—like Consumer Reports—for all education technology products.

Hansen called the accelerator a "private equity fund" that also could help establish USA Funds as a thought leader and, maybe, could lead to a new operating entity.

Also in February, USA Funds partnered with Sterling Partners, a Chicago-based private equity fund, to launch a $200 million "Education Opportunity Fund." It will look to invest in fast-growing companies aimed at opening opportunities for students or helping higher-education institutions find additional revenue or new ways to save money.

On April 1, USA Funds signed an affiliation agreement with Education at Work, a Cincinnati-based not-for-profit that operates call centers on college campuses, helping students reduce their debt loads and giving them employable skills.

Hansen, which called the affiliation an "acquisition," said USA Funds would like to scale up Education at Work around the country.

"We don't know where this is all going to go," he said.•