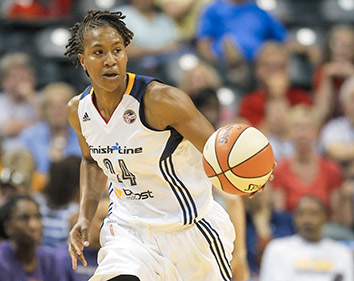 This was a long time ago. She was a little girl then, trying to find a way to stop the other kids from making fun of her hearing aids and speech impediment. She could not wish away the impairment in both ears. She was born with that. But she could find a way to be respected. She could do things that lots of other girls did—but do them better.
So Tamika Catchings was off to the soccer field, the softball diamond, the volleyball game. Even the baritone section of the band. And the basketball court. Places where the scoreboard or musical instrument didn't care how well you could hear—only how well you could play. Just look at the little girl now: all grown up, a WNBA giant on the cusp of retirement, and the rest of her life.
Tamika Catchings is the queen of Indianapolis sports by every measure. Longevity, accomplishment, renown. The Indiana Fever will soon begin their 11th consecutive late summer in the WNBA playoffs, and Catchings has played in all of them, as constant a sight downtown as Monument Circle.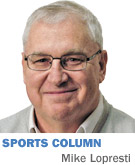 Fifteen years a pro, and every last second spent with one team in one city. Not many franchises—no matter sport or gender—get a story a like that. The most senior Pacer at the moment is Paul George, starting his sixth season. When Catchings was drafted by the Fever in 2001, George was 10 years old. 
She is the heart and soul of an organization. Few athletes can say that and truly really mean it.
"Her personality and the way she plays is what this franchise is really built on," Coach Stephanie White said. "When she's talking in the locker room, everyone listens because she doesn't just talk it, she walks it. Every single day."
At 36, Catchings is still leading the team in points, rebounds and steals. By the way, she's only two years younger than her coach. So this is a tale of how far work can take you. And perseverance.
"I can't imagine life," Catchings said, "without playing basketball."
Her love for the game? "It's never faded," she said. "But the body's gotten older. That's faded."
Nothing lasts forever, and this won't. The 2016 season is to be her last. The idea is to go out with her fourth Olympic gold medal, and another deep playoff run for the Fever, be it this year or next, or both.
"A championship run, how about that?," she said. "It would be a sweet ending to everything that we started."
She will leave with her name plastered all over the WNBA record book. No. 1 in career steals, No. 2 at the moment in points and rebounds, No. 7 in assists. All done as a transplanted Hoosier, who came from Tennessee as a four-time All-American in 2001, knowing only of Indiana, "They liked to play basketball on barns, and stuff like that."
That was OK with her. She is the daughter of NBA player Harvey Catchings. But she would learn that Indiana was something a bit more, and now you ask her what 15 years here have meant, and she has a list.
"Loyalty for one. And then just what this city has done for me and my family and my foundation. They literally wrapped their arms around me and embraced me."
There has not only been the WNBA legacy built in Indy, but the long overseas career in places such as Poland and Russia and Turkey and Korea. Not only the foundation work in her adopted hometown, but representing the U.S. State Department from Southeast Asia to the Middle East. Also, how many Hall of Fame athletes do you know with a master's degree?
If the masses of Indiana have not been paying attention to what she has done, maybe they should before it is too late. Treasures are so often not duly appreciated until they are gone.
The vision of her exit next summer is in her mind. A championship and gold medal won, she is standing, looking at the court that has been home for so long, with one final thought. "It has been a great ride."
And then what?
"I pray about that a lot," she said. "That I will figure out what I'm supposed to do next."
She doesn't want to coach. But there will still be her Catch the Stars Foundation, which helps empower children with programs that promote literacy, fitness and mentoring. There's her yearning for a front-office position in basketball.
And something else. She's engaged, with plans to marry next spring, which begs the question whether she is eager to start a family.
"Very. I've always dreamed about having kids. When I was young, I wanted to have five. Now that I'm older, we'll see what happens."
One day, she can tell those kids about all the years Mom spent in Indianapolis. All the points and rebounds and victories. But she'll want them to understand the records came from passion, and passion came from the fire of a little girl who wanted something different than the cards dealt.
"She was born with it," White said, "I saw her play in the seventh grade. We were playing in the same AAU tournament, and she had a lot less control over her emotions than she has now. I saw this girl throw the ball up in the stands because she was upset with herself for not making a play. She just has a passion that doesn't come along very often. It's a characteristic of her core values."
This time next year, there will be goodbyes to be said. Catchings has already decided how she wants Indiana—particularly the kids of Indiana—to remember her.
"I want them to see a little girl that had to fight a lot of adversity growing up, just like a lot of them have to, and never gave up. I think a lot of kids don't have that fire now. I want them to see a little girl that grew up with a dream, and nobody could tell her no. I'm going to fight until I get what I want, in a good way. And here I am."•
__________
Lopresti is a lifelong resident of Richmond and a graduate of Ball State University. He was a columnist for USA Today and Gannett newspapers for 31 years; he covered 34 Final Fours, 30 Super Bowls, 32 World Series and 16 Olympics. His column appears weekly. He can be reached at mlopresti@ibj.com.
Please enable JavaScript to view this content.