The Indianapolis Colts are going after a young audience—a really young audience.

On Aug. 15, the Colts became the first NFL team to launch a marketing campaign on the social media messaging site Kik, an initiative team officials think could reach hundreds of thousands of teenagers—a notoriously difficult group to target through traditional channels or even other digital platforms.

The league's other 31 teams are monitoring the Colts' progress to see how it goes, NFL sources said.

If you haven't heard of Kik, you're not alone. Just a couple of months ago, neither had Colts officials—not even the hip, young and tech-oriented among their ranks.

But a growing throng of teens—all the way down to 13—is using the app. Now, Colts marketers hope to use the platform to give birth to a new generation of fans.

Plumlee
"This is a perfect audience to grow your loyalties with," said Dan Plumlee, Colts director of digital media. "The younger fans are when we connect with them, the more apt they are to stay our fans for life."

There's another reason Kik's audience is attractive.

"It's an important demographic because it's an age group that shares your content," Plumlee said.

And while much of this super-young demographic has little or no money to spend, "they have considerable sway over people who do," said Kelly Hendricks, CEO of BlastMedia, a locally based public relations and marketing agency that specializes in social media campaigns.

"People as young as 13 and even younger have tremendous influence over parents, grandparents and other people who make a lot of purchasing decisions," Hendricks said. "It may be an audience that was a little overlooked before, but with young people's early-adoption rate of mobile and other digital platforms, that's simply not the case anymore. Companies can no longer afford to ignore this audience."

Kik was quietly founded in 2008 by a group of University of Waterloo (Ontario) students who wanted to create smartphone technologies. The messenger app was released in late 2010, and slowly the medium gained traction—primarily with a young audience who liked the ability to chat with friends on the fly.

In January 2015, Kik reached 200 million registered users, 82 percent of which are ages 13 to 24, according to the company. Users self-report their ages when registering; those younger than 13 aren't allowed to join.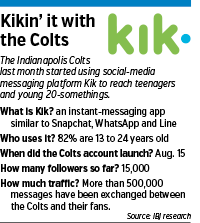 The push

Kik competes with messaging apps like WhatsApp, Line and Snapchat. Kik is the first to have its own browser, which increases functionality and sharing capabilities. And unlike competitors that focus primarily on messaging, Kik integrates different apps and software that allow users to share content like movie posters, memes, Web pages and YouTube videos, and to play games with others.

The free app has started pushing its users to follow some accounts, including the Colts. This year, it has also started offering "promoted chats," which are designed to help companies accumulate followers and talk with current and prospective customers.

For the Colts, the promoted chat takes the form of a game that moves followers through seven levels of a choose-your-own adventure story about progressing through the football ranks from high school player to the pros.

The game typically kicks off with this prompt: "It's a long road to make it in the NFL, and there are difficult choices to make along the way. … Are you up for the challenge?"

Users' responses determine the direction of the game.

Later this month, Colts tight end Coby Fleener will begin answering some of the questions posed by the team's Kik followers about what it's like to train for and play in the NFL.

"Coby is familiar with Kik and likes reaching out to young people, so he was happy to be a part of this," Plumlee said. "It's another great way to connect our fans to our players."

This month, Colts officials will start working on new story lines and new adventures to keep the Kik content fresh. The team also is giving away Colts paraphernalia to draw followers to the story games.

For now, the account is being pushed only to Indiana residents. Once the team gets its Kik content beefed up, it plans to push the account to users in surrounding states, then nationwide—likely late this year or early next year.

Typically, Kik charges a one-time fee for a company's landing page, but Plumlee said Kik—eager to get a foothold with the NFL—waived that. Kik also usually charges for promotional pushes, similar to the way Twitter does, but the company has waived those charges for the Colts as well, during the team's startup period.

"Once your [landing page] is created, you really have no additional costs—unless you want to promote your channel via the pushes," Plumlee said. "At the end of the year, we will look at the success of the pushes and decide whether to apply a budget item to it."

Priming the pump

Social media—especially Kik—is changing the way the Colts connect with and market to young fans, said Colts Social Media Director Amber Derrow.

"Platforms like Kik open up [marketing] avenues that until now simply haven't existed," Derrow said. "This fits that young teen demographic that we didn't really target at all before."

As social media evolves, services like Kik can be more than places to text and share photos with friends, said BlastMedia's Hendricks. They are mobile portals to media and digital content, he added, and that has organizations including the Colts excited.

"There is research that shows a rapidly growing number of companies are going after a younger and younger consumer base," said Galen Clavio, an associate professor at Indiana University's media school. "Companies like the Colts look at it as priming people to become a consumer."

Plumlee admitted it might take a while to see a serious return on investment from the initiative.

"Are we looking to make money from Kik right now? Absolutely not," Plumlee said. "Do we have fans there? Absolutely. Can we engage them? Absolutely.

"If we are not feeding our customers and potential customers content in the form they want, we're not going to reach them at all," he said.

In time, Plumlee is confident, the Kik audience could rival the team's 314,000 Instagram and 440,000 Twitter followers. More important, he said, Kik followers could jump to the team's Facebook page or website, which could lead to merchandise and ticket purchases.

"Kik is a really new platform, so there are still a lot of questions about how best to use it," Plumlee said. "But with the early growth we've seen and the interactions—more than 500,000 messages already exchanged between the team and its fans—one of the questions we're starting to ask is, 'How can this not succeed?'"•