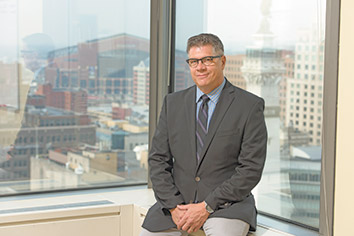 Ask Steven Stolen to explain how he acquired his eclectic resume and you might get a laugh in response.
"I've had what I would call a really big life," Stolen said. "I think I've always been interested in a wider world than just being a singer or just being an academic."
Or just managing one of the city's premier theater venues, overseeing charter schools, hosting a weekly radio show, or helping to run a domestic violence shelter, for that matter.
His newest assignment: vice president of corporate advancement for the Indy Chamber.
Stolen, who began his life with designs on a music career, will use his myriad personal connections to help the chamber find new members and funding sources and build stronger central Indiana ties as it works to become more regionally focused.
Stolen sees the job, which he started Sept. 7, not as a detour, but rather as a culmination of his 27-year sojourn in Indianapolis.
"I've always had a little bit of a restless, entrepreneurial spirit," the Iowa native said. "And that has sort of turned a singer, artist, teacher, fundraiser, not-for-profit champion, administrator and community development guy toward this next opportunity. Maybe I've been working toward something like this my whole time in Indianapolis."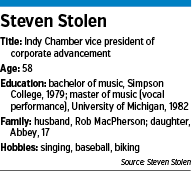 The things that attracted the chamber to Stolen are his administrative talents as well as his knack for helping not-for-profits bring in more money and cut a higher profile. That combination was so enticing that the organization didn't necessarily hire him to fill a position, but rather created a position in order to hire him.
"There's a philosophy, to use a sports analogy, that you draft the best player available," said Indy Chamber CEO Michael Huber. "If we have the opportunity to get a Steven Stolen-caliber person, we're going to create a portfolio around that person that's going to help the organization take it to the next level."
But the new job isn't Stolen's most unexpected career move. Not even close.
That happened back in the early 1990s when he began a long relationship with Butler University, first as an associate professor of music, then as the music department's chairman. He earned tenure, so theoretically he was set for life. Except not.
"I knew that I wasn't going to be a college professor until I was 70 years old," Stolen said. "I just couldn't see myself as one of those guys who one day is found face-down on his desk, dead in his office. I think there's always more to do."
In this case, that meant surrendering tenure and taking an administrative role at Butler. In the process, he developed what's become one of his signature skills: forging connections with the community and bringing in new money. Stolen became the school's director of capital projects in 2003, then its executive director for major gifts and campaign programs.
After that, he was off to the races, serving as executive director of the Indianapolis Children's Choir, then managing director of the Indiana Repertory Theatre from 2006 to 2013. He then transitioned to regional director for Rocketship Education, a not-for-profit charter school organization that planned to expand to Indianapolis but ultimately deferred. And that's all while continuing to sing, professionally, and hosting "Stolen Moments," an eclectic music show on WFYI-FM 90.1.
Stolen's most recent gigs were pitching in at the Indianapolis Opera and serving at The Julian Center, one of the nation's largest centers for domestic violence victims.
Julian Center President and CEO Catherine O'Connor said Stolen used his skills set to help the group raise more money and develop a higher profile. But more important, from her perspective, he revealed his own tale of domestic abuse, which he suffered at the hands of his father while growing up in Iowa.
"One of the most beneficial things he did was to share his own story," O'Connor said. "Coming from someone in the community who's not what we think of as the traditional victim of domestic violence, it helped people realize and remember that this is something that affects everyone. It doesn't discriminate."
Stolen said he wants to keep his hand in at The Julian Center for a while.
"Hopefully, I'll be able to back out gently and it will go virtually unnoticed," he said. "I can imagine I'll probably stop in on my way to the Circle [where the chamber's offices are located] and maybe stop in again on my way home if I need to do stuff."
Though working for a business-centric organization sounds like a departure from his cultural and community service jobs, Stolen maintained it isn't all that big a stretch.
"I think the principles of success are pretty similar," he said. "Connecting with people. I'm a good listener and I'll do what I've always tried to do, which is connect people and their enterprises and try to do really good work."
And he'll try to "amp up" relationships with the chamber's supporters, members and other interested parties. It's all part of a push to make the organization more of a central Indiana presence, and to give it the oomph needed to compete with other metro areas in the race to draw and retain human capital.
"The competitiveness among cities is changing," Huber said. "It's all about the ability to retain the talent you have and attract new, talented workers. You need the kinds of quality places and neighborhoods that draw talent."
And chamber officials think it also means adding sexual orientation to the state's civil rights law. The lack thereof has attracted lots of negative attention lately. They fear it's not the sort of branding that brings millennials running.
Though Stolen happens to be gay and was a plaintiff in the lawsuit that led to same-sex marriage in Indiana—facts that could be helpful for an organization throwing out the welcome mat to businesses and workers—Huber said that's not why he was hired.
"It was more his passion for community and his track record at other institutions," Huber said. "Those of us who know Steven on a personal level know who he is and who his family is, but honestly it was really his track record in business and as a leader."
When he isn't working, Stolen, a baseball fan, follows the Minnesota Twins and turns up regularly at Indianapolis Indians games.
"I find sanctuary at Victory Field," he said.
He also bikes the Cultural Trail and hangs out with his husband, Rob MacPherson (vice president for development at the Central Indiana Community Foundation), and daughter, Abbey, 17. They live downtown in the Historic Meridian Park neighborhood.
"I'm a hustlin', bustlin' 58," he said.
A 58-year-old who isn't quite sure himself what his stint at the chamber will bring.
"The answer is, I don't know," he said. "I think I have to just sort of build it as it comes. And the chamber may not know, either, because they've never had anybody in a role quite like this."•
Please enable JavaScript to view this content.